Dori
I was dumped out on the rural roads in Brown County to fend for myself. When I tried to go up to houses to get help I was chased away. After several weeks maybe months a couple of men caught me!! I was scared to death, but I was so weak from hunger I could not get away. They took me to a building with lots of other dogs and put me in a wire cage, I was terrified! I still did not trust them but at least I was warm, dry and finally I had food!! After 3 days they called HHGDR to come for me. I was still very scared but it did not take long for me to relax. I now had other Great Dane puppies to play with and I slowly gained weight and confidence.
Why would people throw a baby out to fend for itself? Why do people breed more puppies when there are not enough homes now? My Grandma at the Rescue told me someday soon the Rescue would find me my forever home and she promised that this home would NOT treat me like yesterdays garbage! I would be treated like a princess and be loved. I couldn't wait!!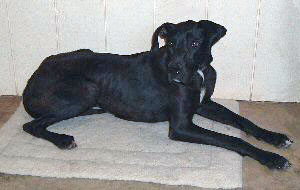 Well, I finally found my forever home and they do treat me like a princess! Grandma was right! I now live in the country with a big fenced yard and I have 4 adopted canine siblings to play with--Paige, Nikki, Boca the Rottweiler, and Sammy the Pug. As a matter of fact, mom says that Paige and Nikki didn't play much until I came along--I've given them their second childhood! I also have 5 adopted feline sisters and brothers and sometimes they like to play too.
But our favorite activity is all laying together on our big soft bed in front of the woodstove. Mom and Dad love us all!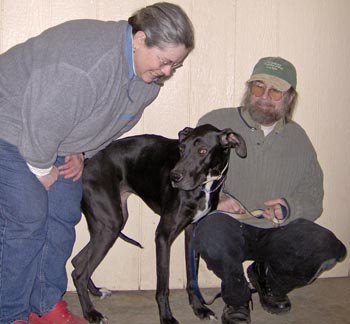 This is me and my new family on adoption day. I really liked my new Mom and Dad, but I was still a little worried about leaving Grandma. But now I know I love my family and I love my new life!!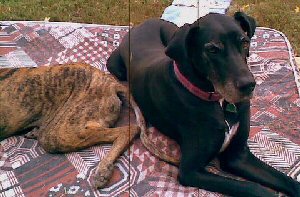 I thought I was mommies little girl!!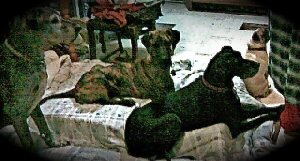 Hurry with the breakfast will ya!!!

Mom make Hayley get off me!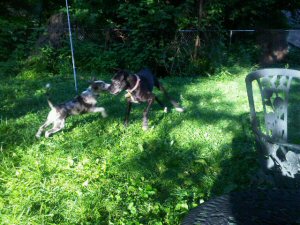 MOM Come Get Micah!!!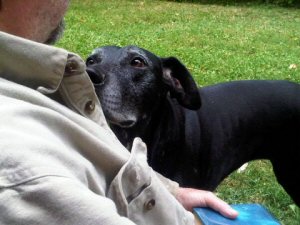 Dad please can I be an only child?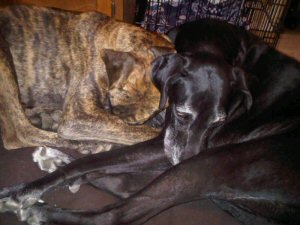 Hayley I have no place to lay my head!!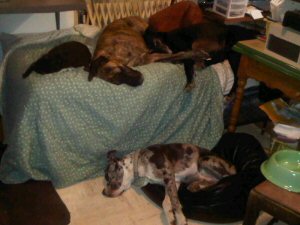 We really need a larger bed!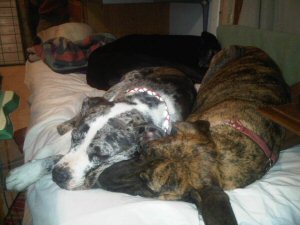 Don't be making any stinkies!!

Do I really look like a pillow???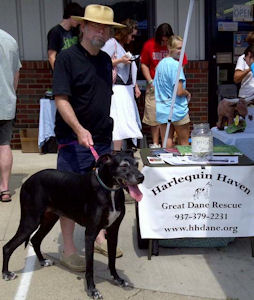 What a great day I love showing off daddy!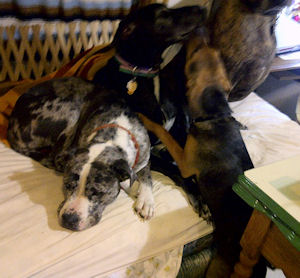 Okay I know where your mouth as been!!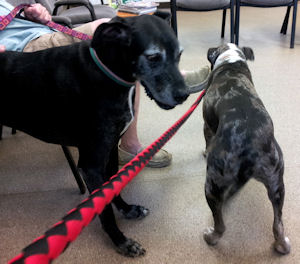 Micah Keep your tail still!!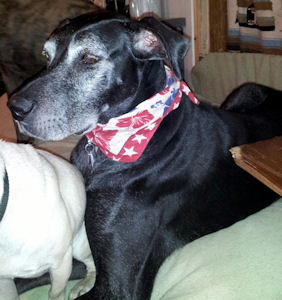 I am the birthday girl!!!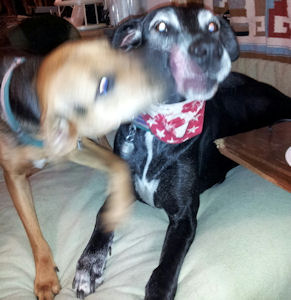 I don't want puppy kisses!!!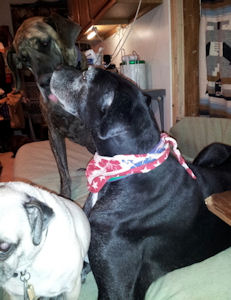 OKAY I give up!!!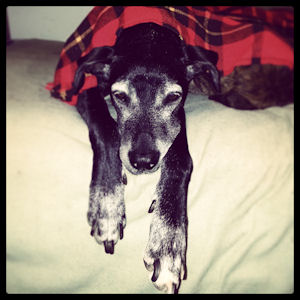 My favorite blanket on a rainy day!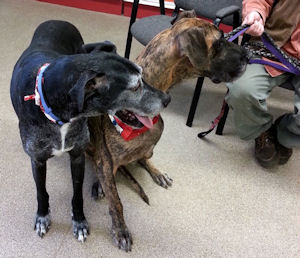 We still have time to run before the Dr. gets here!!
All images and text on this site Copyright © 1998-2023 Harlequin Haven Great Dane Rescue, Inc. unless otherwise credited. Use of any image or text without written permission is expressly forbidden. All rights reserved.