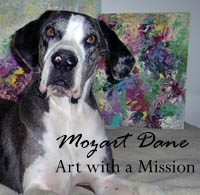 Mozart
9/7/2004 - 3/26/2016
Breeder: Mervin A. Graber


My owners took me to the Capital Area Humane Society (CAHS) when they no longer wanted me and told them that they found me in their backyard. Since that meant I was a stray, I was transferred to the Franklin County Animal Shelter (FCAS) to serve my stray time. The next day my owners called the CAHS to tell them that I really was their dog and they just didn't want me any longer. The CAHS immediately called the FCAS and HHGDR was called to come for me! A few hours later I was transported to the Rescue. What is it with people? I am a Great Dane puppy that was apparently unwanted! Why don't people do their research before getting a puppy of any breed?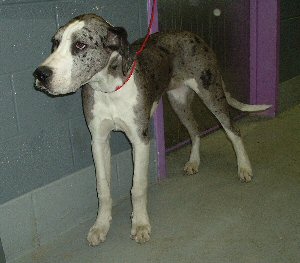 This picture was taken at the FCAS as you can see I was very scared!!
I am a fortunate one--now I am at the Rescue. When I arrived here I knew nothing of being an indoor house pet. I had lived outside and was terrified of being inside. When they touched me I cringed in fear, and I had to be carried everywhere I went. The Rescue's kindness and patience was such a strange concept to me but I enjoyed the attention, hugs, and kisses even though they were new to me. I am now learning to walk on a leash and that if someone touches me it is not a bad thing. I am content to lay in the corner and watch life going on around me but Grandma at the Rescue says this will soon change and I will become a normal puppy. I really like it that I have a soft bed to lay on. The first week I was at Rescue I would not lay on the soft bed but then one day I tried it and WOW what a nice thing to have!!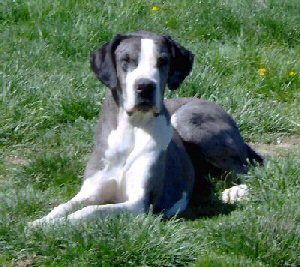 As you can tell I am very relaxed now!!
The rest of my story needs to be told and now that I am settling in at the Rescue I think I am ready to tell all. My owners had purchased me at the Buckeye Dog Auction on March 5th, but by March 7th I was dumped! I assume that they did that impulse buying thing and thought they wanted to get a Great Dane puppy. The Buckeye Dog Auction is held at an Amish-owned Flea Market every month while the Flea Market is open. My breeder Mervin A. Graber sold my one sister and me at this auction. How can a human of supposable religious beliefs auction a dog like a piece of furniture with no thought as to where we would end up?
How can people buy dogs and puppies from an auction? Buying from these auctions may help the dogs being sold but all it does is line the pockets of these horrible people selling us. Do you think these people do not take this money and invest it back into their breeding programs? Do you think these people care about the dogs? The people who sell their dogs at auctions are worst than BYB (backyard breeders). They are no better than the puppy mill owners and most are puppy mill owners. If you think that dog auctions are a small problem you are wrong. Please check out Nopuppymills.com to see the hundreds of dogs that were auctioned off at this 2 day auction. These people breed dogs for a profit just like McDonald's sells hamburgers for a profit. Do I look like hamburger to you?
If you really want to help dogs like me from a life of abuse and neglect then stop these types of sales completely! First off do not purchase a dog at a pet store or auction. No matter how sad the situation is for these dogs we want these horrible sales to stop and if there is no profit to be made they will stop selling dogs. Also, organize a protest and protest outside the sales, bring in the media, publicize the wrong doings and the abuse and neglect that we suffer while in these horrible people's care. Do not buy anything from these people or at their flea markets until they stop selling dogs. Teach these people that dogs too are God's creatures--we are man's best friend and not hamburger!
Please help me in my quest to close down Amish Dog Auctions and stop the Hunte Corporation and Petland from selling puppies!! Please write the Holmes County Commissioners and tell them to stop the breeding and selling on dogs in their county! If you care about animals at all Boycott Petland and its corporate sponsors Nutro Pet Foods & Coastal Pet Products and let them know why!!! Don't buy anything that the Amish have to sell not even there tasteless potato salad!!
Please read my article on Puppy Mills!! I am dedicating my life to stopping the abuse and neglect of the dogs and puppies in puppy mills. There are so many homeless dogs and I have a home here at the rescue. I will continue to live with grandma and grandpa in their home and this will allow me to continue my work of educating people about Puppy mills, Pet stores that sell dogs and the homeless dogs.
I was one of the featured artist on the Mac Worthington Galleries website for June 2007 and had some of my painting for sale on their website as well as this website. I will also be displayed my artwork at the Mac Worthington Gallery in Columbus, OH in December 2007. I feel I am doing more good in the world and for the rescue since I become a spokesman full time.
Below is one of my first paintings.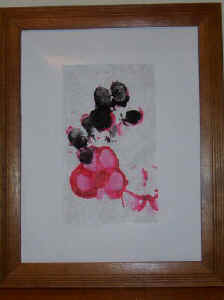 Below is one of my early paintings on canvas.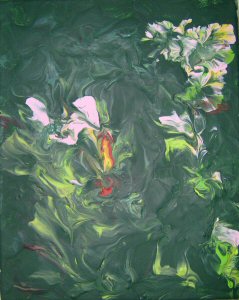 All images and text on this site Copyright © 1998-2023 Harlequin Haven Great Dane Rescue, Inc. unless otherwise credited. Use of any image or text without written permission is expressly forbidden. All rights reserved.