Dog-Made Art

What began as a project without great expectations blossomed into an endeavor producing art works eagerly sought by buyers.

Currently, paintings on paper and ceramic tile (12" and 4") are sold though the Rescue's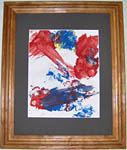 eBay auctions, but we are also seeking partnerships with galleries. Download our "Art with a Message" brochure (pdf).
Great Dane Mozart is our most prolific dog-artist. He is joined by the Katrina dogs (smaller paws for a different look)

Larry, Gracie, Ruthie, Peppi, and Teddy; Saint Bernard Odie; and the Dane tail-artists, Christine and Mimi.
Mozart was sold at an Amish dog auction by a puppy miller then soon after was dumped by the buyer.

Harlequin Haven came to Mozart's rescue.
Mozart paints with his paws to express his feelings as well as to get the word out that

puppy mills are cruel. He stresses that you must not forget what happened to him, or it will continue to happen.

Until puppy mills are abolished, Mozart will continue his mission to get the word out about the evils of puppy mills through his art.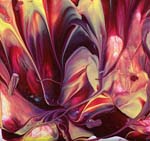 Mozart and the other dog-artists also work to educate the public to spay/neuter their own pets and to help put a stop to irresponsible breeding, as too many pets are euthanized ever day--there are not homes for them all.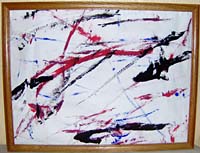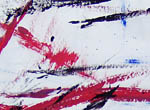 All images and text on this site Copyright © 1998-2023 Harlequin Haven Great Dane Rescue, Inc. unless otherwise credited. Use of any image or text without written permission is expressly forbidden. All rights reserved.