Xola - ADOPTED
Pronounced "Zo-la"
ADOPTED: I have found my forever home!!! Ean is offically my brother now and my new sister Halina was adopted from Harlequin Haven too!!! As soon as I met my new mom and sister I knew it was forever!!!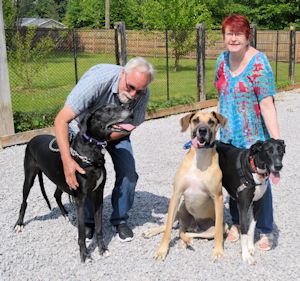 The best day of my life!!
Before Pictures & My Story Below
My owners surrendered me to Harlequin Haven when they said they no longer had time for me.
I am underweight and will be seeing the vet tomorrow. I weigh 87 pounds and Grandma says I should weigh at least 100 pounds. I am being fed 4 small meals each day and I am doing my part to eat every single bite, plus all the yummy treats!!! I love all my toys and soft bed I have too!!
Update: Sorry I am not use to using a computer so I forgot to give you an update. I had blood work ran at the vets office and all is well except they said I have thyroid condition and they are waiting on more detailed results. I got on the scale today and I now weigh 93.6 pounds!! I am almost at my goal of 100 pounds!!!
Update: WOW I never thought these last few pounds would be so hard to gain!! I only gained 3 pounds this week!!! I now weigh 96.6 pounds! The vet got my Thyroid test results back and it has been confirmed I am Hypothyroid. Now I am now on thyroid medication!! I will go back in a month to be retested to make sure my dosage is correct and than I will be available for adoption!! I can't wait!!! Oops almost forgot check out my new pictures below!
Update: Great News I gained my last few pounds I now weigh 100 pounds!!!!!!!! Now to wait a few more weeks for my 2nd thyroid test and hopefully I will than be able to start looking for my forever home!!
Update: I am NOW ready for adoption!!! I just got the results of my thyroid test and I am on the correct dosage!!!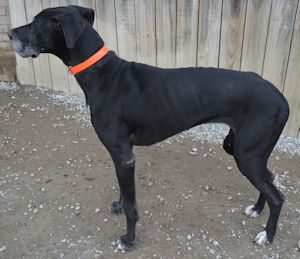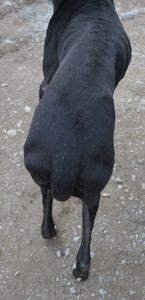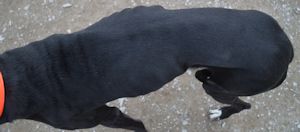 1/28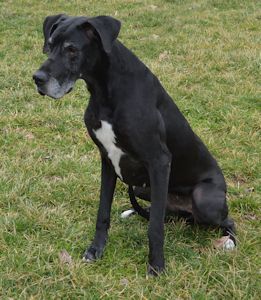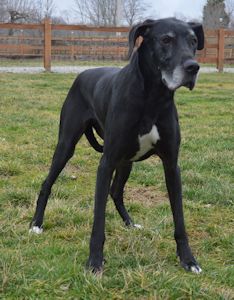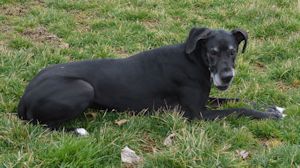 2/11

Date of Birth: 6/2012
Description: female, black with white marks, natural ears
All images and text on this site Copyright © 1998-2023 Harlequin Haven Great Dane Rescue, Inc. unless otherwise credited. Use of any image or text without written permission is expressly forbidden. All rights reserved.