Willow - ADOPTED
ADOPTED: Happy Birthday to me, Happy Birthday to me!! What a great birthday present, a forever home!!! I love my new mommy, daddy and brothers Jackson & Tate! Tate was adopted from Harlequin Haven too!!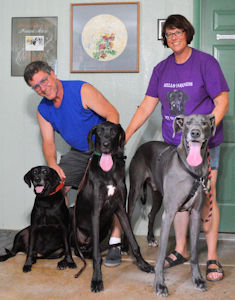 My Beautiful Family!!!
Before Pictures & My Story Below
My owners dumped me on the busy streets of Columbus to fend for myself, luckily I was picked up and taken to the Franklin County Animal Shelter. During my vet check they determined I had H.O.D. and they started me immediately on treatment. When my stray time was up I was brought to Harlequin Haven so I could receive complete medical care!! When I arrived they gave me a really soft bed and tons of toys and introduced me to Valentin who just recuperated from H.O.D..
Update 12/25: WOW THERE IS A SANTA!!! All the dogs kept telling Valentin and I that there was a Santa that brought all good dogs toys and stuff at Christmas. Well we thought they were teasing us and well we must admit we were wrong!!! I woke up Chrismas morning and found I had a bunch of new toys!!! I LOVE new toys!!!
Update 1/6: Great News!!! I am now ready for adoption!!!
Update 4/13: Well I am still here, waiting to find a forever home and so is my brother Valentin!! We got some new pictures taken today. Check mine out below!

Picture above courtesy of Franklin County Animal Shelter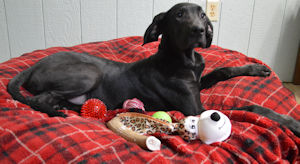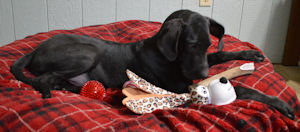 12/25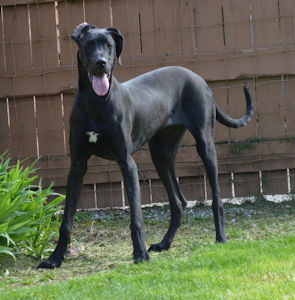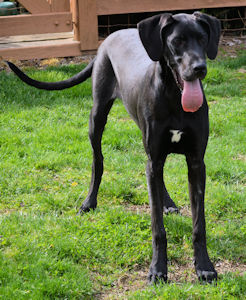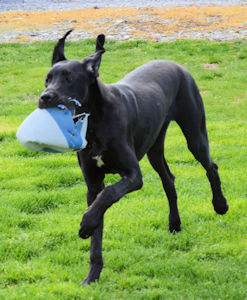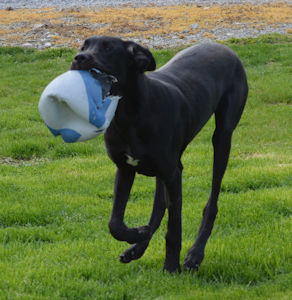 4/13
Date of Birth: 8/2018
Description: female, black with white mark, natural ears
All images and text on this site Copyright © 1998-2021 Harlequin Haven Great Dane Rescue, Inc. unless otherwise credited. Use of any image or text without written permission is expressly forbidden. All rights reserved.