Tate - ADOPTED
ADOPTED: Today was my special day!! I was adopted!! I have a wonderful, mommy, daddy, brother and 2 - 4 legged brothers and even my own kitty cat!!! I LOVE a big family!!!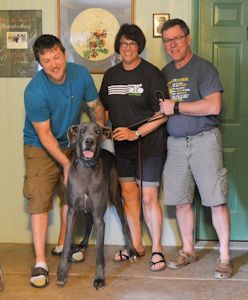 My human family!!! You can see the family love!!
Click here for more pictures
Before Pictures & My Story Below
My owners brought Tristan and I to the rescue when we became more work than they thought we were worth.
I was purchased from a BYB when I was just 6 weeks old. I was so excited to be with my new family until they put me in the garage!! To make matters worse, our owner would turn us loose on his 50 acre farm in the middle of the night to run. When I was 4 months old Tristan and I were attacked by a pack of Coyotes. We both ended up spending 3 days at the vet hospital and when we were finally able to go back home, put back in the garage! One night, we happened to wander over to a neighbor's house to check out his dogs. We did not know he was a County Sheriff, but after a couple of visits to his house, our neighbor came to see our owner and told him he was violating the law and needed to keep us at home. To solve the problem, our owner put up a small pen and only let us out for 2 hours at night. Well, spending most of your life in a garage is boring, so one night, I decided I was going to visit the neighbors' dogs again. It landed me at the Animal Shelter for the weekend and that was the final straw!! When our owner came to pick me at the Animal Shelter he asked if there was a rescue or a person who would want us. The rest is history!!
Update 9/25: Wow! Learning to be an inside dog is a lot of work!!! LOL, that was a joke!!! I have never had it so easy!! I am eating 3 meals a day and I am enjoying the challenge of learning to play with the tons of toys I have never had! I am still trying to decide if I like the soft chewy ones, the hard rubber ones, or the natural bones and antlers the best. I especially love the AC on the hot days!! Last week I went to the vet and was neutered. Grandma said I will be ready for adoption soon. I am quite happy here, but Grandma promised me that I will not go to a home unless I like it, AND, they will care for me as well as the rescue does, if not better!!!
Update 10/2: I still have a few pounds left to gain and than I will be ready for adoption!! I can't wait to start interviewing my new prospective adopters!!
Update 10/20: I am NOW ready for adoption!!! I am a love bug, I can not get close enough to people. I love attention including hugs and kisses!! Unfortunately my breeder just like Tristan's did not care enough to help with my care while I am here at the rescue!! When she called she said she would put a check right in the mail well that did not happen!!
Update 11/20: Well I guess I will give up checking the mail everyday cause my breeder never did send a check like she promised!! The other dogs here kept telling me the check was in the mail and okay I believed them NOW I know they were teasing me!! Oh yeah check out my new pictures below!!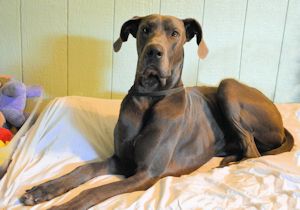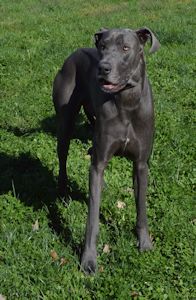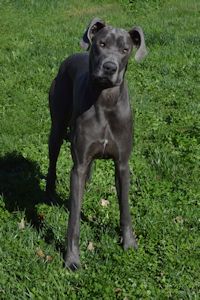 11/5
Date of Birth: 1/09/2015 Breeder: April Nichole Potrafke
Description: male, blue, natural ears
All images and text on this site Copyright © 1998-2023 Harlequin Haven Great Dane Rescue, Inc. unless otherwise credited. Use of any image or text without written permission is expressly forbidden. All rights reserved.