Romeo - ADOPTED
ADOPTED: I have found my forever family and all is wonderful!!
Sorry my adoption day picture did not turn out.
Click here for more pictures
Before Pictures & Story Below
We (Juliet and myself) were dumped to fend for ourselves on the rural country roads of Darke County. We were taken to the Humane Society where we served our stray time, when our stray time was up they called Harlequin Haven to come for us.
When we arrived at the humane society I weighted only 79 pounds and I should have weighed closer to 110 - 130 pounds, I had an open sore on my back and many on my tail, which have now begun to heal. Upon arrival to the rescue we were weighted in and I now weigh 84 pounds. It is apparent to all that meet us that we had not had a great life but things are looking up! We are fed 5 times a day and also get treats so life is good! Plus we have soft beds to lay on and toys to play with!
Update January 24: We have not yet been at the rescue a week but I have already gained weight! I now weigh 88.8 pounds! I was wormed again and I am so enjoying playing and yes eating! My wounds continue to heal and grandma says that in time hopefully hair will cover the scars.
Update January 29: I got weighted today I now weight 92 pounds!!
Update February 6: I got weighted again today and I now weigh 99 pounds!! In less then 1 month since Juliet and I were saved I have gained 20 pounds!
Update February 21: I now weigh 104.4 pounds!! See my new pictures below!
Update February 28: I have gained another 5 pounds I weigh 109 pounds and am feeling great!! Grandma says another 5 or 10 pounds and I will be at my perfect weight!!!
Update March 7: I am now ready for adoption. I weigh 115.2 pounds and Grandma says I am at a perfect weight! I am very sweet and gentle but I really don't like other boy dogs so much! I would make a perfect couch potato, if anyone is looking for one!!!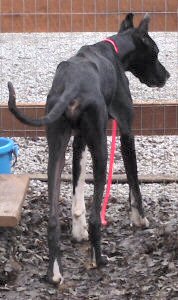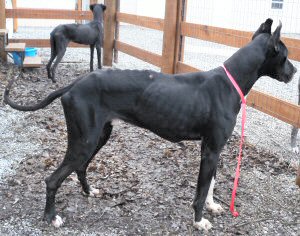 1/18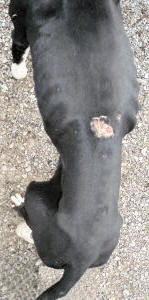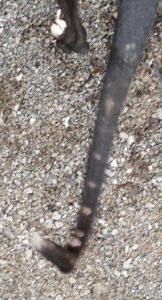 1/18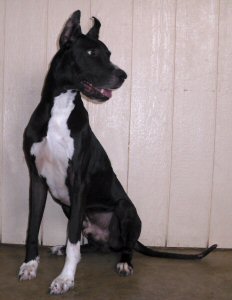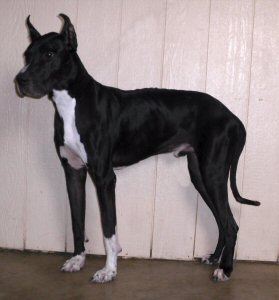 2/20
Date of Birth: 1/2008
Description: male, black with white marks, cropped ears

All images and text on this site Copyright © 1998-2023 Harlequin Haven Great Dane Rescue, Inc. unless otherwise credited. Use of any image or text without written permission is expressly forbidden. All rights reserved.