Juliet - ADOPTED
We (Romeo and myself) were dumped to fend for ourselves on the rural country roads of Darke County. We were taken to the Humane Society where we served our stray time, when our stray time was up they called Harlequin Haven to come for us.
When we arrived at the humane society I weighted only 68.8 pounds and I should weigh closer to 110 - 120 pounds, I had an open sore on my back, which has now begun to heal. Upon arrival to the rescue we were weighted in and I now weigh 75.8 pounds. It is apparent to all that meet us that we had not had a great life but things are looking up! We are fed 5 times a day and also get treats so life is good! Plus we have soft beds to lay on and toys to play with!
Update January 24: After less then a week we were weighted and I now weigh 82.4 pounds!! My favorite time of the day is meal time but of course I do love to play with Romeo and snuggle with my toys on my bed! I was wormed again so hopefully all those nasty worms are gone now!! I will update again next week after I get weighted again!!
Update January 29: I was weighted today and I now weigh 87 pounds!!!
Update February 6: Well I only gained 1 pound this week but I was spayed and so I did not feel so good for a few days, but now I am back to work on gaining my weight! Grandma says I should be ready for adoption real soon!!
Update February 14: I only have a little more weight to gain and I will be ready for adoption! Grandma took new pictures of me yesterday and I have placed them below! I am turning into a beautiful young lady!
Update February 21: I now weigh 95.6 pounds!! No one told me how hard it would be to gain weight! Grandma says that it is good I am gaining slowly and making muscle but gee I sure would like to do it quicker!! Of course when I sit back and think a month ago I only weighted 75 pounds it sure makes it sound a lot better!!
Update February 28: Well I got weighted again and I now weigh 99 pounds!! Only a few pounds left to gain and I will be at my desired weight!! I can't wait!
Update March 7: I was weighted this morning and could not wait to share the great news!! I now weigh 105.4 pounds and am ready for adoption!! I love to play and snuggle and am looking for my forever home!!
ADOPTED - I have now found my forever home and life is wonderful!! I never knew life could be so great!!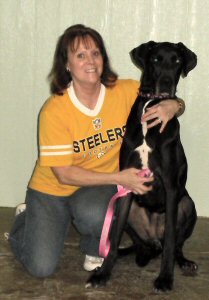 My new mommy!!
Before Pictures Below
1/18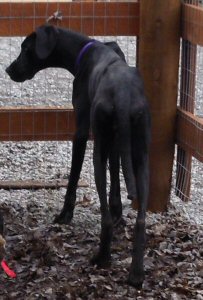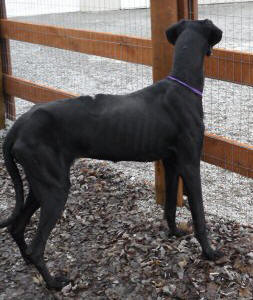 1/18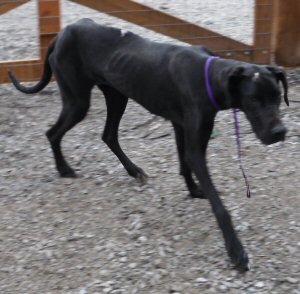 1/18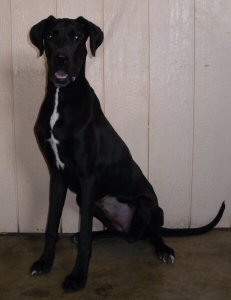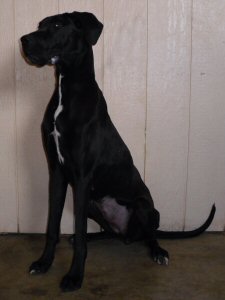 2/13
Date of Birth: 1/2009
Description: female, black with white marks, natural ears

All images and text on this site Copyright © 1998-2023 Harlequin Haven Great Dane Rescue, Inc. unless otherwise credited. Use of any image or text without written permission is expressly forbidden. All rights reserved.