Poppy - ADOPTED
ADOPTED: The bestest day ever!! I have found my forever home and my BFF (Paula) is now my sister we have a wonderful mommy, daddy and even a little 2 legged sister!!! What more could I ask for?? Heck this is more than I had ever hoped for!!!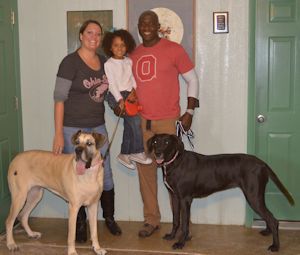 Our first family photo!!!
Before Pictures & My Story Below
Until last week I never knew what it felt like to live inside a house. I have lived my whole life outside with a less than adequately insulated dog house and yes having puppies. After all, isn't that what dogs are supposed to do - have puppies and live outside? At least that is what I thought! Actually last fall life got tougher. Our mom was murdered on her way home and of course I had a litter of puppies which dad proceeded to give away. Mom was the one that had fed and cared for us dogs. Without her, meals got scarce and any attention was something of the past. Then one day dad decided to sell the house and move on with his life. My brother and I were left to fend for ourselves! Finally the neighbors contacted Harlequin Haven but would not give them our location. But lucky for us Grandma at the rescue made it her mission to locate us. With the help of the Brown County Dog Wardens and shelter employees within 24 hours the Dog Wardens found us!! The Dog Wardens thought we would be hard to catch but we were so happy to see them that we ran and jumped in their truck!!! Upon arrival we both were given soft beds, tons of toys and many small meals. Then we went to the vet!! At the vet we all were shocked to hear that we both had Lyme disease!! Lyme disease is very expensive to treat. The drug used is Doxycycline and at the present time it is costing about $2 per capsule and I take 10 capsules per day and I will need to take them for at least a month, possibly longer.
On Tuesday of this week my owner came for my brother and released me to the shelter. I miss my brother, but am so happy that I will never live outside and never want for food or love again! I worry about my brother please keep him in your thoughts and prayers.
To learn more about Lyme disease check these links out. OSU and CDC Lyme disease is on an increase in most states PLEASE educate yourself for the safety of your pets!
Update: I have completed my treatment and am NOW ready for adoption!! I can not wait to find my forever home. Check out my new pictures!!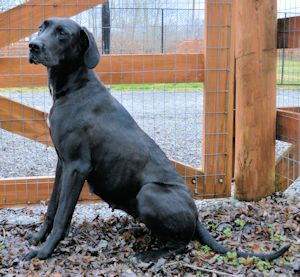 3/28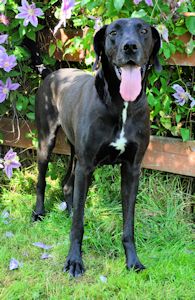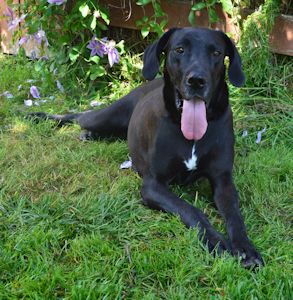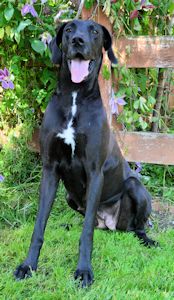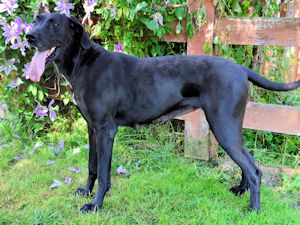 5/26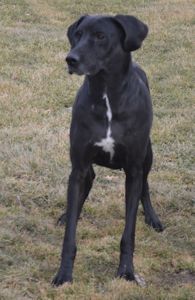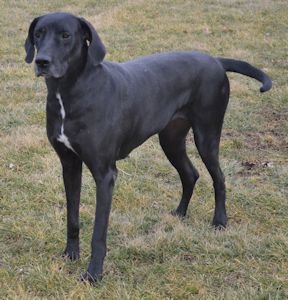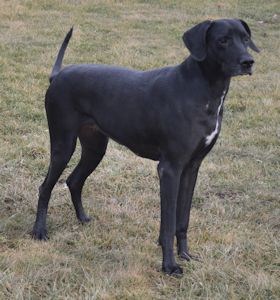 1/31

Date of Birth: 4/2011
Description: female, black with white marks, natural ears
All images and text on this site Copyright © 1998-2023 Harlequin Haven Great Dane Rescue, Inc. unless otherwise credited. Use of any image or text without written permission is expressly forbidden. All rights reserved.