Paula - ADOPTED
ADOPTED: What a fantastic day!! I have found my forever home and my BFF (Poppy) is now my sister PLUS I have a great mommy, daddy and even a little 2 legged sister!!! What more could a old girl ask for?? Hugs, kisses and playing dress up with my 2 legged sister thats what!!!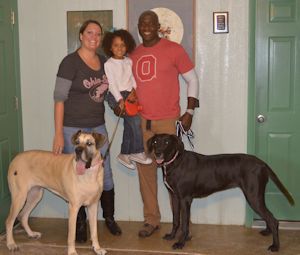 My family and the day I have dreamed of!
Before Pictures & My Story Below
I was tossed out on the busy streets of Columbus to fend for myself when I was found I was taken to the Franklin County Animal Shelter. When my stray time was up they contacted Harlequin Haven to come for me.
I am a very sweet and happy girl and am very appreciate of the food, soft bed and toys I received when I arrived here at the rescue. I weigh 88 pounds and need to gain 15 - 20 pounds which should not be too hard, I am receiving many small meals so I do not get an upset stomach.
Update: Today was spa day I enjoyed it so much that I wanted my picture taken and I thought you would like to see my new picture!! I am gaining weight and am enjoying life!!
Update: I have recently been diagnosed with Alopecia X, although this disease is typically found in Nordic or double coated breeds it is not always the case. I am presently taking Melatonin and hopefully my hair will grow back. I however continue to be happy and healthy I am just missing some hair and have a dark skin pigment where the hair is missing. I have added a picture below, and will have grandma get a picture of my other side so you can see what I am talking about.
Update: As you can see from my new pictures my hair has almost completely grown back and it is continuing to grow!!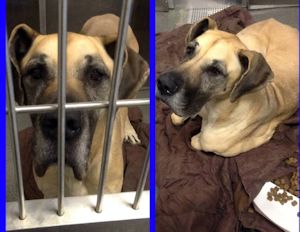 Picture above courtesy of Franklin County Animal Shelter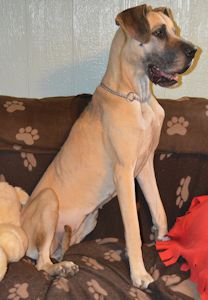 3/2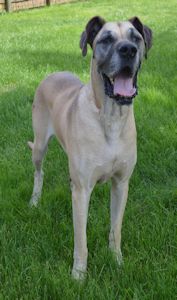 5/26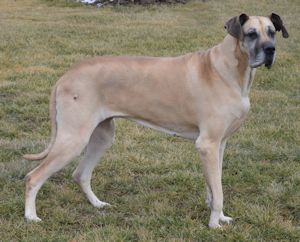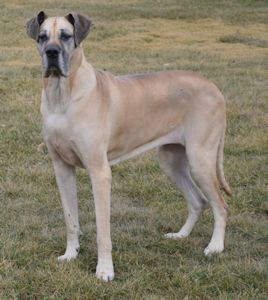 2/1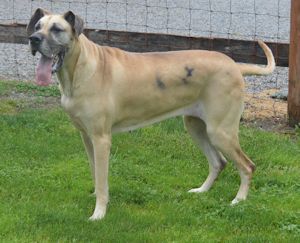 5/16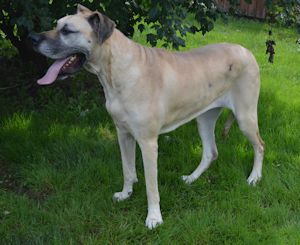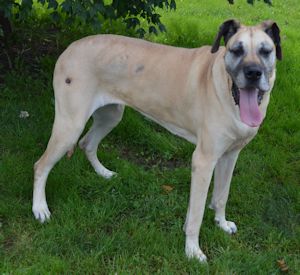 8/8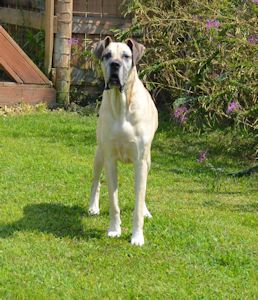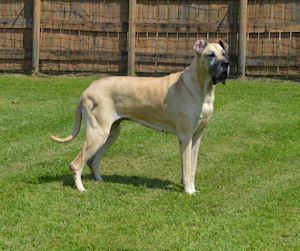 8/29
Date of Birth: 3/2008
Description: female, fawn, natural ears
All images and text on this site Copyright © 1998-2023 Harlequin Haven Great Dane Rescue, Inc. unless otherwise credited. Use of any image or text without written permission is expressly forbidden. All rights reserved.