Lorne - ADOPTED
ADOPTED: What a GREAT DAY!!! When Lorie and I came to Harlequin Haven, the rescue at first tried to adopt us out separately. But, well I wanted to be with my sister because I love and need her in my life. We had already been dumped to fend for ourselves and we learned then we had to stick together. Grandma told us it may take a while but the rescue wanted whatever would make us happiest!! Well many people wanted us, but never the both of us but all good things are worth waiting for!! After almost 2 years our new mom came to get us!! Life is wonderful!!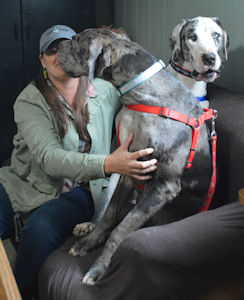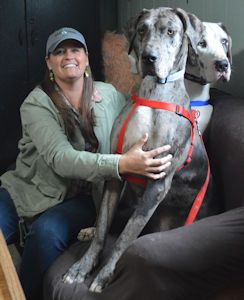 Our first family picture with our new mom!!
Click here for more pictures
Before Pictures & My Story Below
My sister Lorie and I were dumped on the side of the road when our owners decided they no longer wanted us!! It was very stressful for us since I am deaf and I could not hear cars coming and Lori had to protect both of us!! Fortunately we were taken to the Clermont Animal Care Humane Society and when our stray time was up they called Harlequin Haven Great Dane Rescue to come for us!! We are now safe and being fed 3 meals a day and we both got soft beds and tons of toys to play with!!!
Update 5/5: I am now ready for adoption. I will need a hearing dog to help me get settled in the home, plus that way you will always question whether I can hear or not. It is not required that my sister be adopted with me but I do really like her! Check out my new pictures below!!!
Update: Lorie and I got great news today!! We NOW are considered a bonded pair and MUST be adopted together!!! Life is great!!!
Update 11/10: Hey I added some new pictures below showing you how handsome I am!! PLUS I even added a picture of how small of a ball I can curl up into so you will see I do not take up much space!!
Update 12/25: THANKS SANTA!!! Now what do I play with first!!!!
5/5
11/10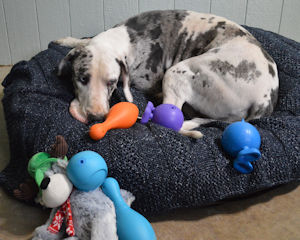 12/25
Date of Birth: 5/2016
Description: male, merlequin, natural ears, blue eyes, Deaf/Hearing Impaired
All images and text on this site Copyright © 1998-2022 Harlequin Haven Great Dane Rescue, Inc. unless otherwise credited. Use of any image or text without written permission is expressly forbidden. All rights reserved.