Lorie - ADOPTED
ADOPTED: I can't believe that today finally came!! I really thought that Lorne and I were asking for too much!! After all most people don't want to adopt 2 adult Danes at the same time let alone one that is handicapped. But Lorne and I had made a pack when we were dumped to fend for ourselves almost 2 years ago that no matter what we were sticking together!! When we told Grandma that we wanted to be adopted together she told us it would be a long wait but if that is what would make us happy than that is what we would do!! Well it was worth the wait!! Our new mom came for us and we couldn't ask for a better mommy!! Not only is she beautiful she LOVES getting and giving kisses!!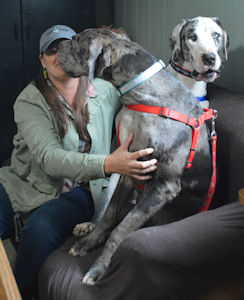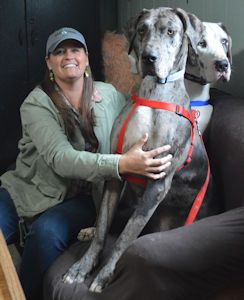 Our first family portrait!!
Click here for more pictures
Before Pictures & My Story Below
My brother Lorne and I were dumped on the side of the road when our owners decided they no longer wanted us!! It was very stressful for us since Lorne can not hear and I had to keep him safe! Fortunately we were taken to the Clermont Animal Cares Humane Society and when our stray time was up they called Harlequin Haven Great Dane Rescue to come for us!! We are now safe and being fed 3 meals a day and we both got soft beds and tons of toys to play with!!!
Update: I am now ready for adoption!!! Anyone looking for a gorgeous Merle girl!!! I love to play, give kisses and more kisses!!! Check out my new picture below!!
Update: My brother and I got our wish!! We are considered a bonded pair and MUST be adopted together!! We are so happy!!
Update 11/10: Hey check out my new pictures!! I tried the serious look this time! What do you think?
Update 12/25: I knew I had been a really good girl this year!! NOW what do I play with first!!! Thanks Santa for the new toys and snuggly blanket!!!