Kiki - ADOPTED
ADOPTED: When I came to the rescue Grandma was positive, I would be adopted quickly well it just goes to show that Grandma's can be wrong!! I was here for 405 days!! But that is okay because finding the right family is worth the wait!!! I now will have a mommy, daddy and 2 brothers Dewey aka Finn and Louis both adopted from Harlequin Haven PLUS Violet!! I also got a new name Lily!! Apparently, they never watched General Hospital and knew who Kiki was. Life is wonderful and just keeps getting better!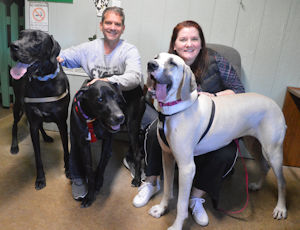 We sure are a happy family!!!
Before Pictures & My Story Below
I have had a lot of homes in my short life and Grandma here at the rescue said it was no fault of mine!! I went from my breeder to a man who sold me to the Animal House Pet Store and within hours I was sold to a couple who did not realize how expensive owning a Great Dane was! Lucky for me this time I was given to the woman's sister who tried her best to keep me, but she already had 4 dogs of her own, but she wanted what was best for me, so she contacted Harlequin Haven and asked for their help!! I am a very sweet and intelligent young lady and I try my best to please everyone but remember I am still a puppy!! Now I need to go relax and enjoy my new friends and toys till dinner time.
Update 9/16: Well I didn't have any eye surgery like Kristina I only got spayed! In a couple of weeks, I will start to look for my new forever home and hopefully it is just that a loving forever home!!
Update 9/26: Great News!!! I am NOW ready for adoption!!! I can't wait to find my forever home!!! Are you my forever home??? Oh yeah Grandma said I could use an obedience class, she said something about I am a bit too happy. I am not sure what that means? But then I do not know what an obedience class is either!!
Update 3/13: I am still waiting for my forever home and yep my obedience class!! Good homes are sure hard to find!!!
Update 7/10: Wow it sure has been hot this summer!!! We got some new pictures last week but it was so hot I just laid in the shade, I have 1 new picture below. Also, Grandma said that I am a wee bit on the chunky side so NOW I need a family that will take me for walks or play with me outside so I can loose a pound or two!! Yeah you got it I do not understand what she means.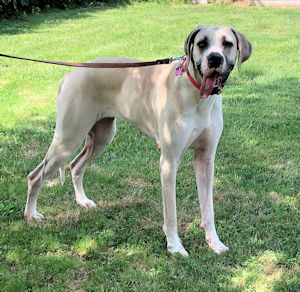 9/4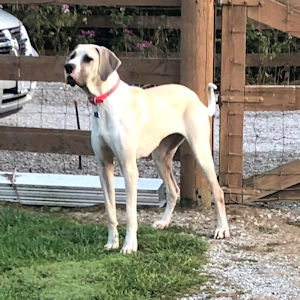 9/14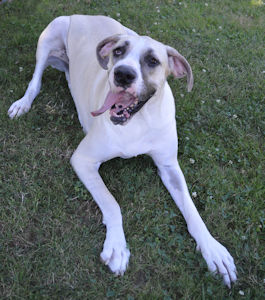 7/03
Date of Birth: 12/2019
Description: female, fawn mismarked mantle, natural ears
All images and text on this site Copyright © 1998-2023 Harlequin Haven Great Dane Rescue, Inc. unless otherwise credited. Use of any image or text without written permission is expressly forbidden. All rights reserved.