Keeley - ADOPTED
Pronunciation: "k ee - l ee"
ADOPTED: What a Great Day!! It was only 746 days coming but worth everyone of the 1,074,240 minutes!! I have found my forever mom & dad!!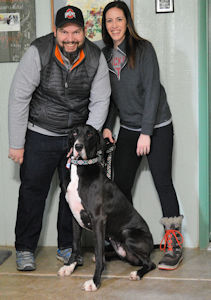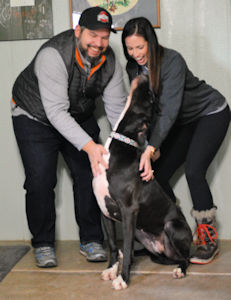 Sorry I couldn't help myself I had to give my new mommy a kiss!!
Click here for more pictures
Before Pictures & My Story Below
My brother Kaylor and I were bought from a backyard breeder and when we got to our new home we were welcomed with chains and dog houses!! Well life finally got better once we turned a year old and our owner decided they could no longer afford to care for us, so they took us to the Hardin County Animal Shelter!! The wonderful people at the shelter contacted Harlequin Haven to come for us! We are now here at the rescue and WOW life just keeps getting better!! Heck we thought we had hit the jackpot at the shelter but here we have soft beds, tons of toys and we are both being fed 4 times per day plus we have already made tons of new friends.
Well Grandma said we have to stop playing on the computer and come and eat lunch. I have 20 plus pounds to gain, I only weigh 85 pounds. Grandma says we need to relax and play with our toys after we eat lunch!! Tomorrow she said we both will get bathes, my brother says I need a bath that I stink! UGH haven't we been rained on enough, but she says this is different!
Update 1/11: I added a couple of pics taken today so you can see how skinny I am!
Update 1/20: A quick update!! I did better than Kaylor in 9 days I gained 14 pounds!! I now weigh 99 pounds!!
Update 1/28: Okay another quick update!!! I now weigh 106 pounds, another 7 pound weight gain!!! Update 2/11: Great News!! I am now ready for adoption!! I have gained my weight and am just a very happy girl!! I promise to have Grandma take some new pics of me showing how beautiful I am now!!Update 2/26: Sorry for the delay I kept forgetting to have Grandma take some new pictures of me!! But I did yesterday!! Check them out below!!
Update 11/10: Well I decided I would get in on the action and have my picture taken today!!! Check them out below!
Update 12/25: Thank You Santa!!! I love my new snuggly blanket and toys!!! The treats and bone is great too!!! Thank you for making my Christmas a very merry one!!!
Update 4/21: I started gaining weight and my hair started falling out. Grandma and my vet were baffled for a bit I now have been diagnosed with Seasonal Flank Alopecia. I am being treated and responding to the treatment. I am taking melatonin, and will need to take it the rest of my life!! Good thing it is cheap!!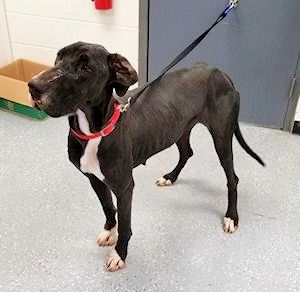 (Picture courtesy of Hardin County Animal Shelter)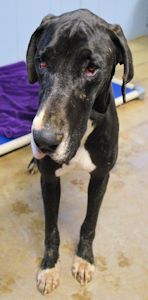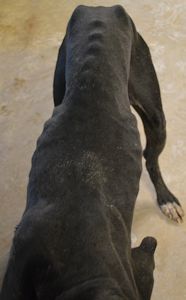 1/11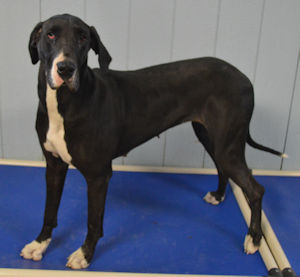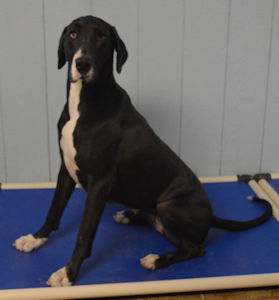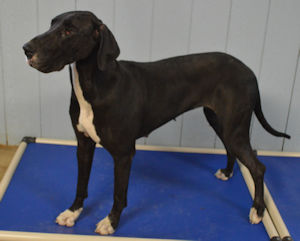 2/25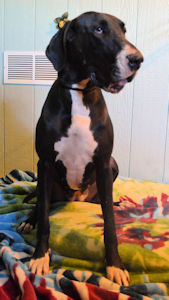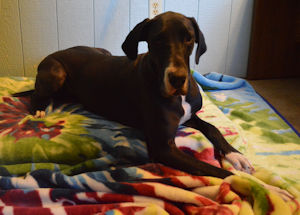 11/10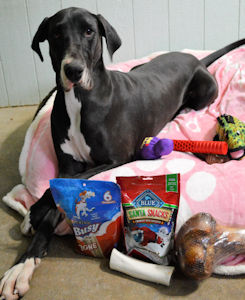 12/25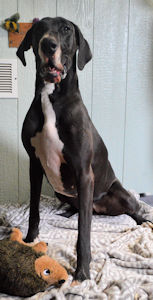 A must to read Black is Beautiful
Date of Birth: 1/5/2017
Description: female, black with white marks, natural ears
All images and text on this site Copyright © 1998-2022 Harlequin Haven Great Dane Rescue, Inc. unless otherwise credited. Use of any image or text without written permission is expressly forbidden. All rights reserved.