Kaylor - ADOPTED
ADOPTED: My day has come!! I cannot believe that Keeley came back for me! I really thought she was glad to be rid of me but guess not!! She is daddy's girl and I am mommy's boy!! What a GREAT DAY!!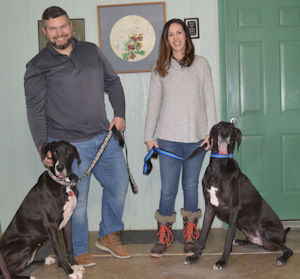 So proud of my new family!!
Click here for more pictures
Before Pictures & My Story Below
My sister Keeley and I were bought from a backyard breeder and when we got to our new home we were welcomed with chains and dog houses!! Well life finally got better once we turned a year old and our owners decided they could no longer afford to care for us, so they took us to the Hardin County Animal Shelter!! The wonderful people at the shelter contacted Harlequin Haven to come for us! We are now here at the rescue and WOW life just keeps getting better!! Heck we thought we had hit the jackpot at the shelter but here we have soft beds, tons of toys and we are both being fed 4 times per day plus we have already made tons of new friends.
Well Grandma said we have to stop playing on the computer and come and eat lunch. I have at least 30 pounds to gain, I only weigh 90 pounds!! Grandma says we need to relax and play with our toys once we eat our lunch!! Tomorrow she said we both will get bathes!!! UGH we have been rained on enough, but she says this is different!
Update 1/11: I have added a couple of pictures taken today so you can see how skinny I am!!
Update 1/20: Just wanted to give you a quick update!! I gained 12 pounds in just 9 days!! I now weigh 102! Is it not amazing what a little food will do!
Update 1/28: Another quick update!! I now weigh 110.8 pounds!! I even added a new picture below!!Update 2/11: I now weigh 120 pounds and I am ready for adoption!!! I am a very happy boy and I am working really hard on my manners but I get really excited and sometimes I am kinda over zealous!! Update 6/10: Yeah I know I am black and that is not the most popular color when adopting a dog but check out my pictures below and see how handsome I am and notice the picture of me running!! I am faster than a speeding bullet if ya don't believe me try to catch me!!!
Update 11/10: Wow with all the people that email about wanting to adopt me I am shocked that no one has ever looked at me!!! Oh well at least I know I am loved here at the rescue!!! We had picture day so check out my new pictures below.
Update 12/25: Thank You Santa for the snuggly blanket and new toys!!
Update 9/19: Well, I was adopted but after several weeks it was decided that I would be better off with a different family. Although I like children, living in a house with active children that have tons of friends in and out, well it was stressing me out! I am however a very happy boy!!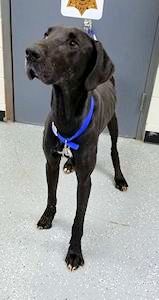 (Picture courtesy of Hardin County Animal Shelter)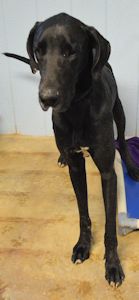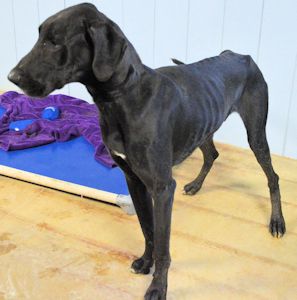 1/11
1/28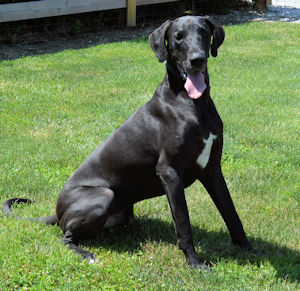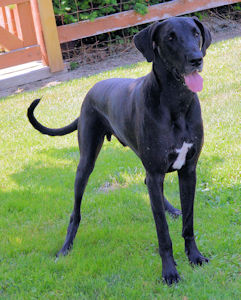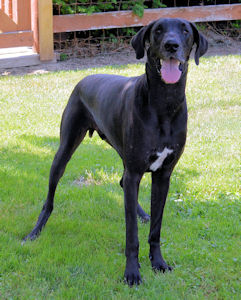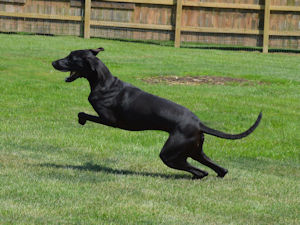 6/10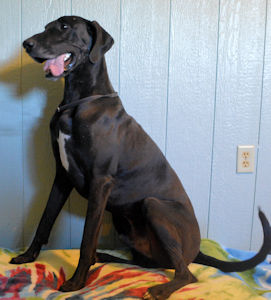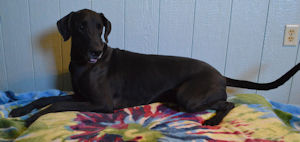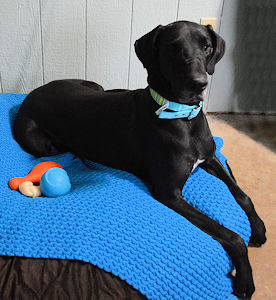 12/25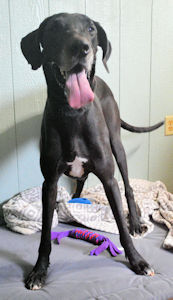 Date of Birth: 1/5/2017
Description: male, black with white marks, natural ears
All images and text on this site Copyright © 1998-2022 Harlequin Haven Great Dane Rescue, Inc. unless otherwise credited. Use of any image or text without written permission is expressly forbidden. All rights reserved.