Hallee - ADOPTED
ADOPTED: When my BFF Randi was adopted 2 weeks ago I wondered if I would ever find my family after all I had been at the rescue for 1.5 years!! Well as that old saying goes "good things come to those who wait". I now have my forever family and not only do I have a great mom and dad I have a brother Brutus that was adopted from the rescue 8.5 years ago!! I think my family knows the meaning of forever!!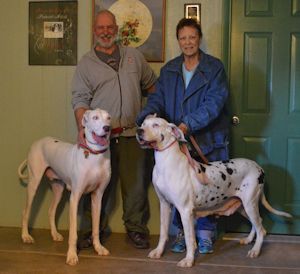 I have my loving forever home!!
Click here for more pictures
Before Pictures & My Story Below
A mother does not willingly leave her puppies, especially an experienced mother. But there I was, at the Franklin County Animal Shelter, listed as a stray. I had just given my owners a litter of puppies (not my first litter) and they didn't even come looking for me. They profited from my puppies and then forgot about me like yesterday's trash! I was lucky though, because the wonderful dog warden found me and took me to the Franklin County Animal Shelter. The shelter vets noted I had a strong smell of a purulent infection and my mammary glands were enlarged and warm with a serous fluid. They felt I was stable for a stray hold but needed further medical care ASAP. Maybe that's why my owners didn't come for me. They thought my days as a "puppy machine" were over. My luck continued to hold as the shelter contacted Harlequin Haven and as soon as my stray time was up a wonderful man was waiting to take me to the rescue!!! As soon as I arrived at Harlequin Haven I was given a really soft cushy bed with tons of toys and, of course, lots of hugs and kisses. Grandma at Harlequin Haven has told me that I can leave my old life behind and has assured me that I will be feeling much better soon. I am now am receiving further evaluations and am under the care of the rescue's veterinarian.
Update: Well there has been a small set back in my road to recovery. During my vet visit I had blood work done and one of the test showed that I have Ehrlichia. It is a tick borne disease. I am now being treated for the Ehrlichia and for Kennel Cough YES, I got Kennel Cough because of my debilitated state at the shelter.
Update: Things are looking up, after a week on the medications I am much feeling better!!! I have added a couple of pictures below.
Update: Check out my new pictures below!!! I am feeling great now and love to play outside and snuggle inside!!!
Update: Great News I am now ready for adoption!!!
Update 11/21: I decided to try a different approach instead of smiling in my pictures I decided to do like the models do and just look sophisticated!! Check them out below and let me know what you think!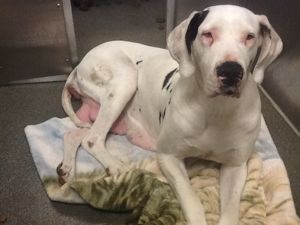 Picture above courtesy of Franklin County Animal Shelter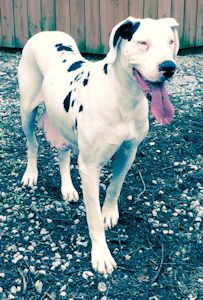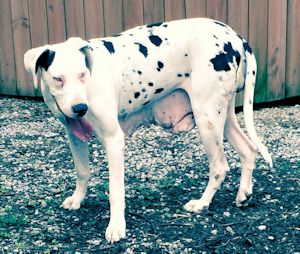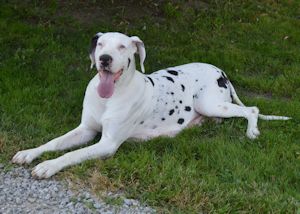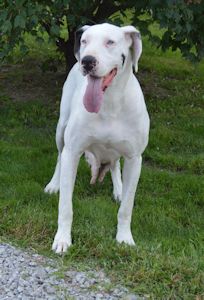 8/29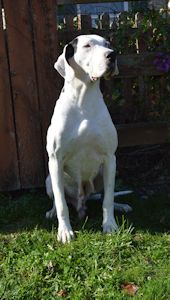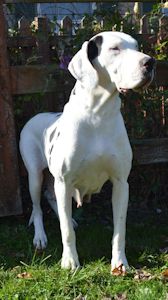 11/20
Date of Birth: 12/2012
Description: female, harlequin, natural ears
All images and text on this site Copyright © 1998-2023 Harlequin Haven Great Dane Rescue, Inc. unless otherwise credited. Use of any image or text without written permission is expressly forbidden. All rights reserved.