Garrett - ADOPTED
ADOPTED: I found my forever mommy and daddy and lucky for me I have three 4-legged siblings and they "ALL" came from Harlequin Haven (Noelle, Priscilla and Harry aka Kalin)!!! Life is the best!!!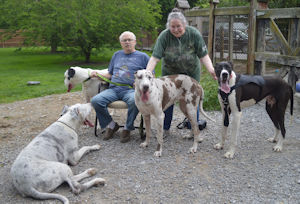 I love my new family!!!
I have had many homes in my short life!! From my breeder, to a home, to a shelter, to a home, back to the shelter then to Harlequin Haven! Hopefully I will find my forever home and stop this bouncing around. I had cherry eye when I arrived at HHGDR but they immediately got me the surgery so I am that much more handsome! Check out my pictures below!