Frannie
I was bred to be a show dog. I had the looks but no desire. When I failed at that, I was then sold as a breeding dog. Well, to be honest, I did not like being a mom as I am to much of a child myself. So I was again returned to the breeder and this time I was given away free to a good home. Well that was a joke!!! This time I was taken from my owner by the dog warden because my owner was allowing the other dogs to attack me and I was being starved. My collar was imbedded in my neck and I was 30 - 40 pounds underweight when the dog warden took me. My owner agreed to release me if they did not press charges against her. When I arrived at rescue I had a lot of emotional problems from the abuse and neglect. But they, unlike others in my past, did not give up on me they kept working with me and well today I have a GREAT Dad!!! He loves me so much and I love him too!!
Dad decided I needed a little brother to keep me company so now I have Jake, he too was adopted from the rescue!
Okay now dad decided I needed another brother!! Good thing he is cute! His name is Baba he was also adopted from HHGDR.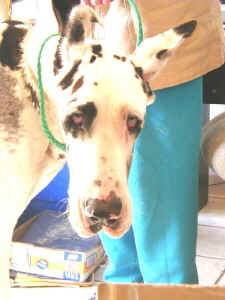 I had little desire to live when I arrived at rescue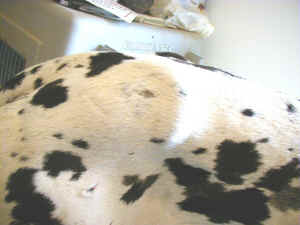 My hip bones were sticking out, and I had cuts all over my body.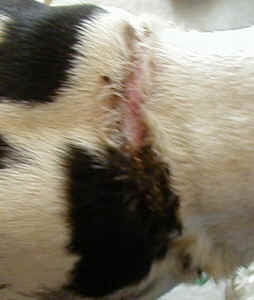 My neck was starting to heal when I came to rescue.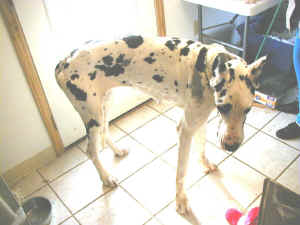 Look how sad I am in this picture.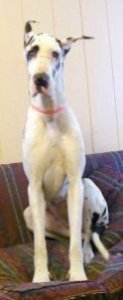 Now this is a proud and happy girl!! I was ready for a new family!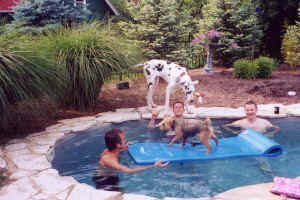 My first vacation I am working on my suntan!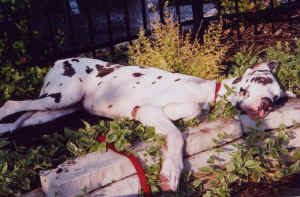 Dad and friends and of course me enjoying our vacation.

Who said I needed a baby brother???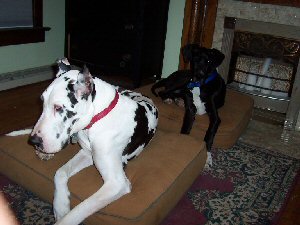 Before Jake I had both beds!!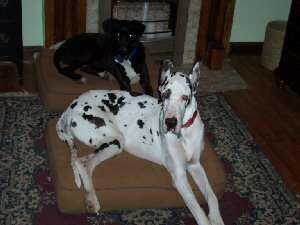 He is cute though!!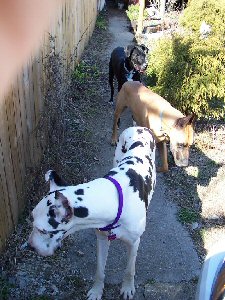 That's right I am the boss so I am in front!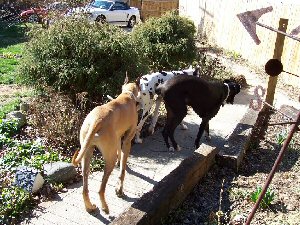 Okay boys lets go back to the house!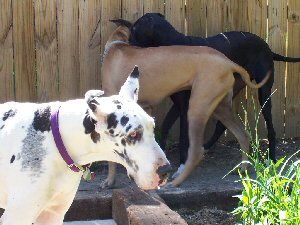 Free to a bad home. 2 little brothers!!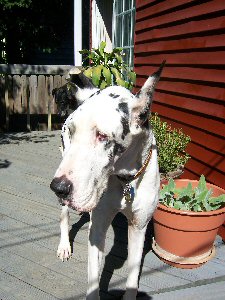 Another sunny day!!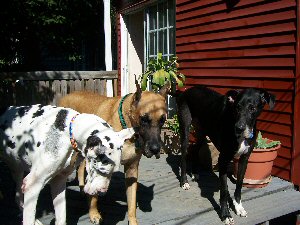 Ladies first boys!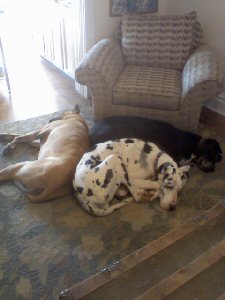 The warm sun feels good!!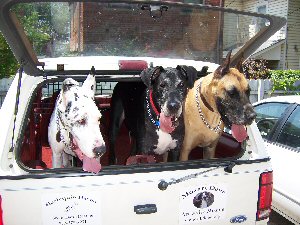 I love car rides!!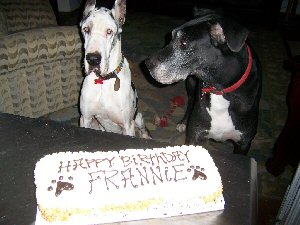 NO you can not have any of my cake Jake!!!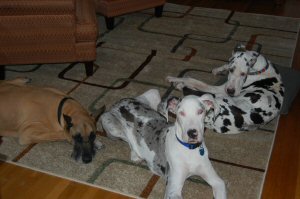 Daddy bought us a new home!!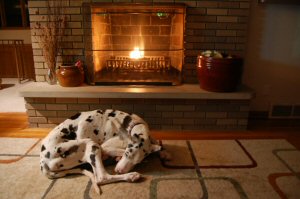 I love my new fireplace!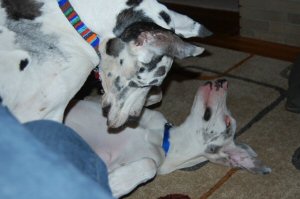 Listen squirt I am the boss in this house!!

All images and text on this site Copyright © 1998-2023 Harlequin Haven Great Dane Rescue, Inc. unless otherwise credited. Use of any image or text without written permission is expressly forbidden. All rights reserved.