Destinee - Adopted
ADOPTED: I have found my forever home!! I love my new family and they love me!! I now have a new life and I plan on enjoying being a loved family pet!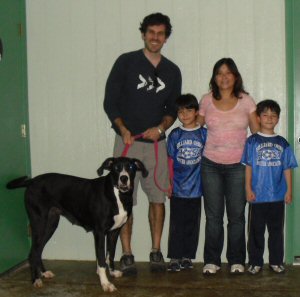 My new family (minus my 4 legged brother)!
Click here for more pictures
Before Pictures & Story Below
My owner was about to be charged with cruelty and was trying to give me away. I was emaciated and she did not even know I was pregnant. Then I had 4 puppies and our owner decided she would keep me till the puppies were weaned so she could sell them. The family that had taken me would not help hide us from the humane society so he had our owner release us to him. He then told the humane society that he would keep us till my puppies were weaned and then turn 3 of my puppies and myself over to the humane society. Then one of his friends said he wanted a puppy also. The night before my puppies turned 5 weeks he decided he no longer wanted to keep us, so he contacted the humane society to take myself and 2 of my pups (Desiree and Destin). I thought we were going to freeze to death there was a horrible snow storm and the temperatures were dropping and we were living in a garage with a dirt floor. I was doing my best to keep my puppies warm but it was very difficult. The Pickaway County Humane Society immediately contacted Harlequin Haven to come for us and that very night they arrived even though it was snowing and they said the roads were treacherous. It was really nice riding to the rescue in a warm car. When we arrived at the rescue we were given a warm soft bed, toys, food and HEY we are in a building and it even has heat!! I am very thankful for the rescue and the humane society!!
This is my second litter of puppies and the rescue has told me it is my last! Although I am a great mom I look forward to being a puppy again myself!
I thought you might like to see a few new pictures of me! I have gained my weight and now have to work on getting my figure back!!
Update March 13: I am now ready to find my forever home!! I am a very sweet and gentle lady and hopefully I can find a wonderful forever family that will love me as much as I will love them!!
Update April 3: Today I spent a wonderful spring afternoon outside playing with my kids! It was great!! Check out the pictures below!!!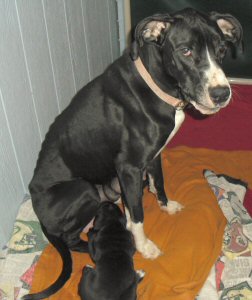 1/21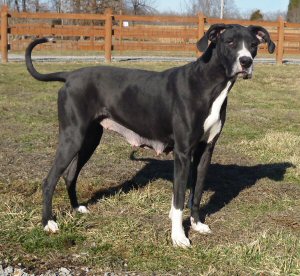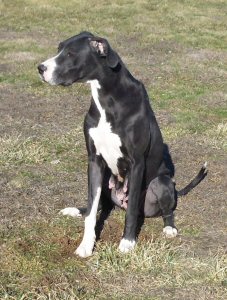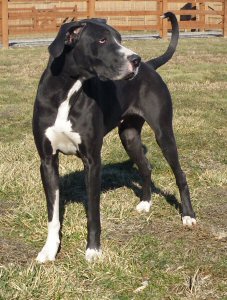 2/19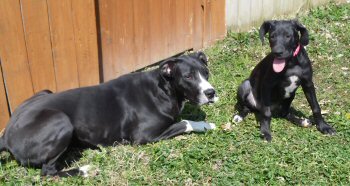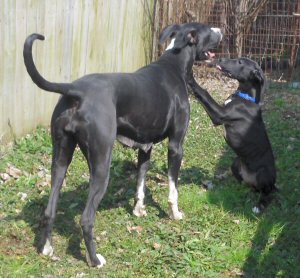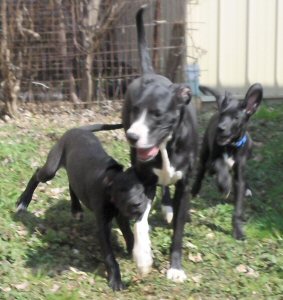 4/3

Date of Birth: 7/2009
Description: female, mismarked mantle, natural ears

All images and text on this site Copyright © 1998-2023 Harlequin Haven Great Dane Rescue, Inc. unless otherwise credited. Use of any image or text without written permission is expressly forbidden. All rights reserved.