Cybil
I was turned into the Brown County animal shelter when my owner went to jail and instead of them calling the rescue they sent me to the APL in Cleveland. They were not very nice people but that did not stop HHGDR from getting me and saving my life. I had a hard time at first because of the neglect and life style my owner had kept me in but thanks to a wonderful family that are now my Forever Family I am a well adjusted Dane.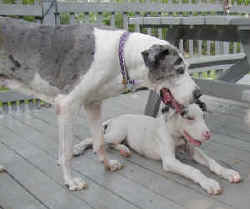 Here I am with the new addition to my extended family Nomar.
Mom and I wanted you to know that a dog having Separation Anxiety is not the end of the world and with just a little bit of time and patience that your dog and you can have the life I do with my new family!!! Please read the story my mom wrote to help you with your new addition.
Our Story
When you adopt a puppy, you understand that you will probably have about 6 months of training. When you adopt an adult dog, you should also understand that you will have about 6 months of training (more or less depending on the history of the dog).
When I adopted Cybil, I knew that she came with separation anxiety, and that she would require work. I did not mind this since she loved us from the first day. I figured that it would be like adopting an older child. You should show them the rules, but you also need to pay close attention to the personality and needs of the dog.
Cybil's situation before she came to the Rescue had not been good, and she had been at the Rescue for about one and one-half years. To add to her problems, she was there at the time of the fire which destroyed the Rescue. As a result she was very nervous about being in a confined space such as a crate or behind a closed door.
The first month that Cybil lived with us was very rough. We had her go to the basement during the day while we were at work. Our basement is very nice with a completed recreation room with carpet and a couch. Still, she was very unhappy and would stay at the top of the stairs and claw on the door. We added extra pieces of wood to the door to reinforce it. Also, she drooled constantly when she was in the basement. We could not leave her upstairs because we did not know whether or not she would try to jump through a window. In addition, our Chihuahua did not like her we couldn't leave them alone together.
I consulted with our veterinarian and he suggested using "Clomicalm" which is a medicine used for dogs with separation anxiety. We used this for three months, and read all the instructions on how to work with a dog with this problem. After approximately two months the clawing and drooling started to diminish. When we were home with Cybil, she was the perfect dog except with the Chihuahua (this was not her fault). We trained her that she had to overlook the grouchy Chihuahua because she (Cybil) was so much bigger. She got along with all of our other dogs. Cybil's tail was always wagging when she was with us - I had never seen a dog that wagged its tail so much! Also, I was very lucky to have a husband that believes in working with a dog (or so he says).
When you adopt them, they are yours - bad or good. It is up to us to teach them to be "good!" This is "good" story! Cybil kept doing better and better. Last Thanksgiving I decided to give her a chance to stay up in the house while we were gone. I started with short periods of time, and kept increasing the time. She never once bothered anything. She would just stretch out on our bed and wag her tail as we were saying goodbye to her.
Cybil and the Chihuahua now sleep on the bed together (although the Chihuahua is still grouchy). The only problem we have with Cybil today is that she is a food hound. We really have to watch all the dogs' food bowls. She is a blessing to our family - all visitors love her (although she will move them of the couches if that is where she wants to be). All the work with Cybil was well worth it!
Written by Cybil's mom with love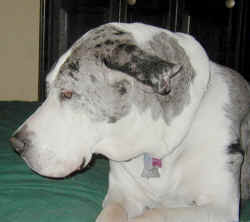 All images and text on this site Copyright © 1998-2021 Harlequin Haven Great Dane Rescue, Inc. unless otherwise credited. Use of any image or text without written permission is expressly forbidden. All rights reserved.