Asher - ADOPTED
ADOPTED: Well my day came and it was everything I have dreamed of!! I have found my forever family and they are the bestest family in the whole wide world!! My sister (Leia previously known as Lulu) was adopted almost 3 years ago and she is the bestest sister!! I love my new family, they were worth the wait!!

My forever family (minus daddy he had to stay home)
Before Pictures & My Story Below
When my owners no longer wanted me they took me, to SPCA Cincinnati and tied me to their gate and left me! The next morning when the shelter workers showed up, they contacted Cincinnati Animal Care so I could serve my stray time. When my stray time was up the shelter contacted Harlequin Haven Great Dane Rescue to come for me. Within hours I was here at the rescue.
Update 10/24: Well I got neutered today and NOW Grandma says I need to work on my manners before I can find my forever home. Hummmm I guess that means I need to be better with everyone not just her.
Update 11/02: I am NOW ready for adoption!! I am still working on my manners but I am getting better everyday.
Update 11/06: I look really good chilling on the loveseat don't I!
Update 12/02: Just giving you a quick update!! I am still waiting for my forever home and while I wait I am learning to have manners. Grandma says I am doing so much better and that she is proud of me!!Update 12/17: Well darn!! I hoped I would get a forever home for the holidays but it did not happen BUT HEY I will get to meet Santa Claus if he really exists.
Update 1/15: Well I did not get to meet Santa, he snuck in while we were all sleeping!! I do not know how he did it cause I am a light sleeper!! But hey at least he left me several new toys and even some treats!! FYI, I am still waiting for the gift I want the most, a forever home!!
Update 2/26: Yep I am still waiting!!! FYI, I am a small boy so if you do not want a big Dane I may just be the one for you!!
Update 5/14: Well I guess you figured it out I am still waiting for my forever home!! As sweet and cute as I am I never thought it would take this long!! Forever home where are you???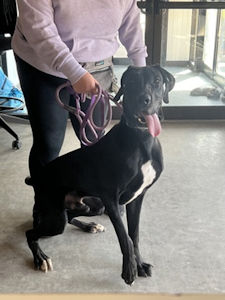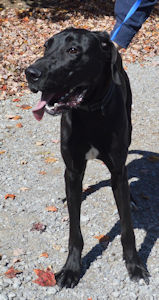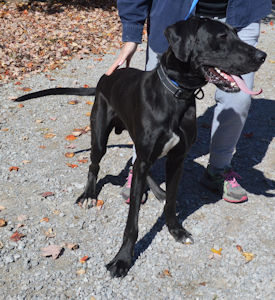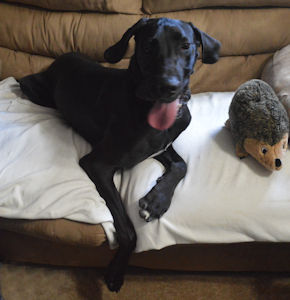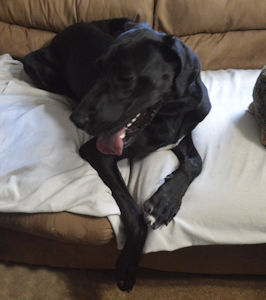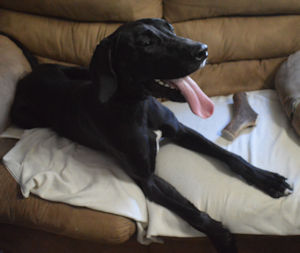 11/6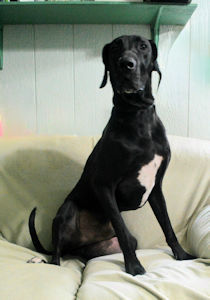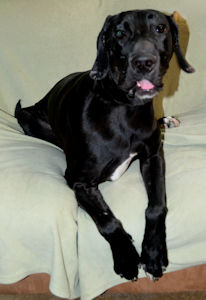 5/14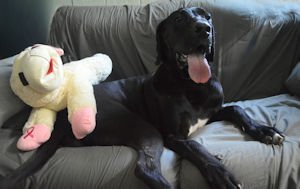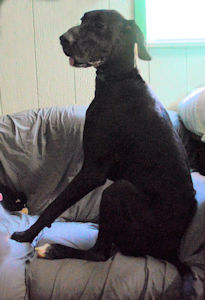 5/19
Date of Birth: 2/2022
Description: male, black with white marks, natural ears
All images and text on this site Copyright © 1998-2023 Harlequin Haven Great Dane Rescue, Inc. unless otherwise credited. Use of any image or text without written permission is expressly forbidden. All rights reserved.