Lulu - ADOPTED
ADOPTED: I have found my forever family!! I am so happy to start my new life with my new family!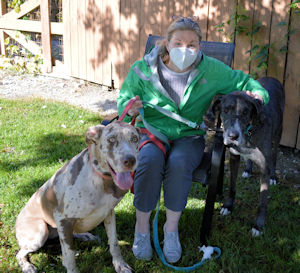 My forever mommy and brother Tank, yep Tank was adopted too!
Before Pictures & My Story Below
My brother (Leon) and I were purchased from backyard breeders and thought we had our forever home but one day our owners decided they had to get a divorce. Mom wanted to keep us but she could not afford us so she brought us to Harlequin Haven to find our forever homes.
Update 2/8: I am now ready for adoption!! I am a very loving and sweet girl and I love to play!!
Update 6/21: Grandma says it had to have been the way Leon and I were raised. We both have trust issues and it takes us both a bit of time for us to trust strangers. We both were starting to warm up nicely to all of the volunteers then the Pandemic hit and then for a couple of months we had minimal interaction with new people. I am working very hard to learn to trust strangers but whomever wants to adopt me will have to earn my love! Remember nothing in life is free especially not the love of a beautiful Great Dane!! Speaking of check out my new pictures below!! I just get more beautiful everyday!
Update 8/10: Well ya know that you don't know someone till you live with them and the longer you live with them the better you get to know them. Well it is no different with dogs!! When Leon and I came to Harlequin Haven Grandma asked what food we had been eating and she was told Purina ProPlan so Grandma got it for us and although Leon was happy to have his food, me not so much!! Grandma has learned that I am a very picky eater and I have a very expensive taste palate!! After 7 months of me barely eating and Grandma trying all kinds of different foods dry and canned she finally found a food that I like!! At least for now!! It is Sojo Complete Lamb recipe and it only cost $81 at Chewy.com as long as Grandma put it on auto ship. Of course it is a 7 pound bag so it doesn't last long but I do let her put it over my dry food and that helps to stretch my food budget. Oh yeah I also am picky about my dog biscuits!! At the present time I like Milk-bone GravyBones, don't try to fool me with other bones either! I wonder what I can teach Grandma next!!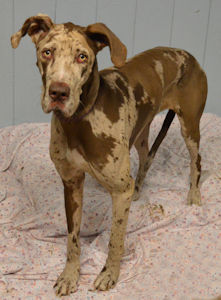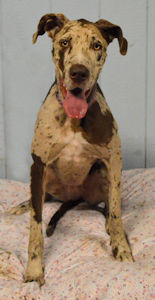 1/12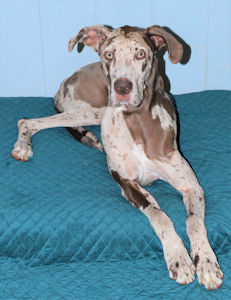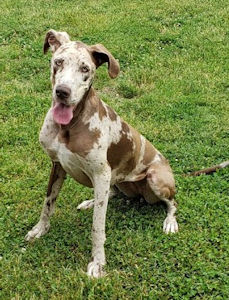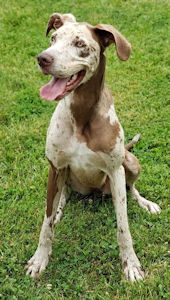 6/14
Date of Birth: 10/01/2016
Description: female, chocolate merle, natural ears
All images and text on this site Copyright © 1998-2023 Harlequin Haven Great Dane Rescue, Inc. unless otherwise credited. Use of any image or text without written permission is expressly forbidden. All rights reserved.