Zain aka Jasper - ADOPTED
Adopted: I have found my new mommy and family!!! Although mommy and I will live together her family is right down the road so we will see each other a lot!! Life is wonderful!! PLUS I got a new name!! My new name is Jasper!!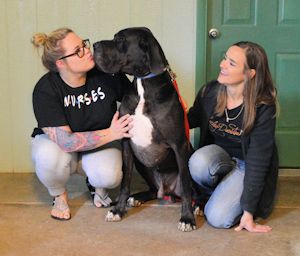 My new mommy and grandmommy!!! I am soooo lucky!!
Click here for more pictures
Before Pictures & My Story Below
After I was founding wandering the busy streets of Cincinnati, I was taken to the SPCA of Cincinnati to serve my stray time. My owners never came for me and since I wasn't doing well at the shelter they contacted Harlequin Haven on my behalf. It didn't take long for Harlequin Haven to react, and in just a couple of hours I was at the rescue.
Within minutes of arriving at Harlequin Haven I had an appointment to have eye surgery on both my eyes. I have Entropion and Cherry eye in both eyes. Entropion is a medical condition where your eye lids (usually the lower) fold inward and scratch your eye. Because of it, I live with pain daily. My appointment is scheduled for February 13th and I can't wait!! Between now and then I have to gain some weight. I only weigh 118 pounds and should weigh at least 140 pounds.
It shouldn't take me long because, now that I am here at the rescue, I am being fed 4 meals a day with yummy canned food on top. And, to top that off, I even have a really soft bed with tons of toys to play with, not to mention the tons of hugs and kisses and feelings of love and care I never had!
Update: Just letting you know that I had a great first week (well not quite a week but ya know) !! I have already gained weight!! I now weight 127.4 pounds and I have only been here 4 days!!! Grandma here at the rescue is introducing me to all kinds of new things to eat!! There are hard things that she calls dog biscuits and other softer things she just calls them treats!! They are odd but yummy!! Well I just had lunch so I am going to take a nap!!
Update: Well I did not gain as much weight this week but Grandma says that is normal. I now weigh 132 pounds!! I can't wait till Monday when I have my eye surgeries! Check out my new pics below!! Yep I do like having my picture taken!!
Update: I had my eye surgeries well sorta!! I had Entropion surgeries on both eyes, but I did not have either cherry eye surgery. My left eye - the swelling had went down and looks normal so no surgery required. My right eye - when the surgeon was able to look at it closely he saw that I have already had surgery on that eye and it was botched. He was afraid to try and fix it that he could actually cause more damage. I am happy because my eyes no longer hurt and that is all that matters to me!!!! Well I gotta go play, I have some new stuffed toys and I like them!!!
Update: I now weigh 144 pounds and well I guess need to weigh at least 150! So I get to keep working on gaining weight!! I love my job!!!! BUT the great news is that Grandma said I can start looking for my new home!!! Soooooo I am NOW ready for adoption!!!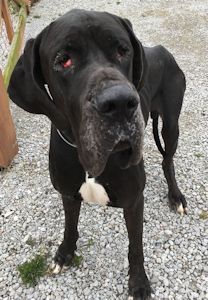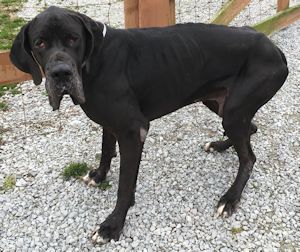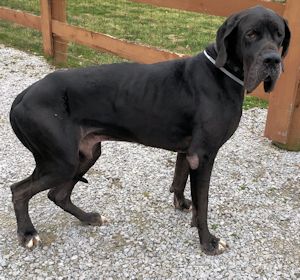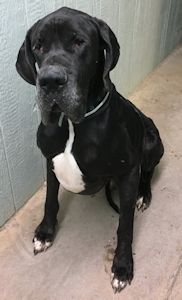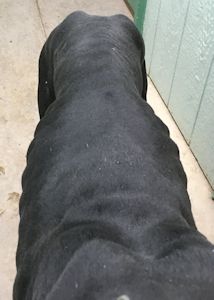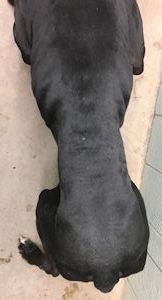 2/4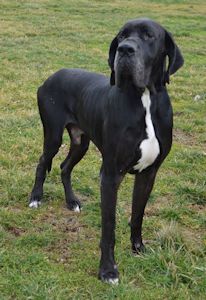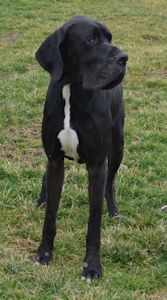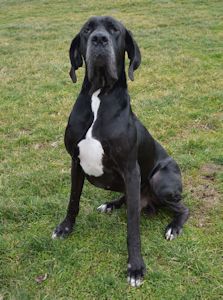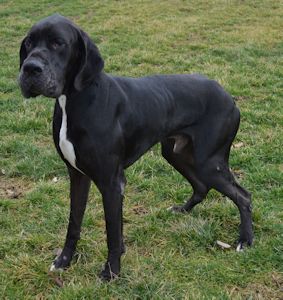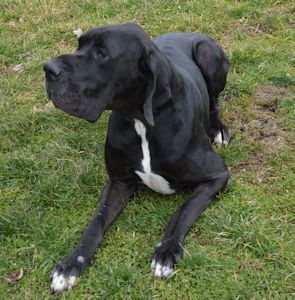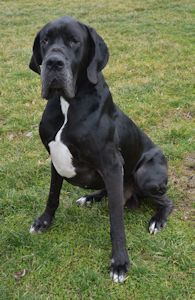 2/11
Date of Birth: 2/2014
Description: male, black with white marks, natural ears
All images and text on this site Copyright © 1998-2023 Harlequin Haven Great Dane Rescue, Inc. unless otherwise credited. Use of any image or text without written permission is expressly forbidden. All rights reserved.