Xena
I was purchased from a backyard breeder in Kentucky when I was 8 weeks old and thought I had my forever home. Then in January 06 my owners had a baby and it was decided that I had to go. Dad felt I was too big and bouncy for small children. So mom put me on Petfinder's to find me a new home. My new owners lived in Kent Ohio and after a few months the woman became ill and they also decided I had to find a new home. Then I was placed in a home in Troy Ohio which yes you guessed right did not last! I was then placed in a home near Columbus Ohio. After a short period of time they too decided they no longer wanted me so they placed an ad in the newspaper and I again was dumped. This home lasted less then 24 hours when they took me to the Franklin County Animal Shelter. When I arrived I was terrified and was not doing well I was so stressed, the shelter scheduled me to be euthanized if rescue could not take me. Because I had been listed on Petfinder the last people assumed that I had came from a rescue. So the animal shelter contacted HHGDR to see if I happened to be one of their's. Even though HHGDR knew I was not one of their Danes they too remembered me being on Petfinder and thought that maybe I had been in a all-breed rescue so they agreed to take me till my rescue could be located. I was brought to HHGDR that very evening and the next day they found out my history. I have had 5 homes in 1 year all because people took on a Dane without doing research, each time I was Free to a Good Home. When I arrived I was terrified to trust but the rescue understood the heartache I had went through for the past year and gave me the time I needed. No dog deserves to be dumped 5 times in 1 year!!
I am happy to say that I found my forever family!! They promised to never dump me and I believe them!! My forever family is the best family a girl could hope for!!!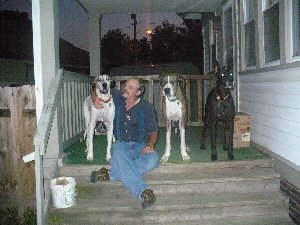 This is dad with my 4 legged brother Clyde and sister Sheila!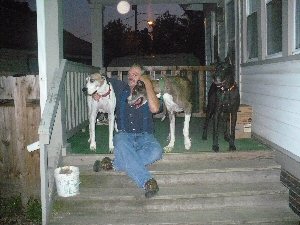 We are a happy family!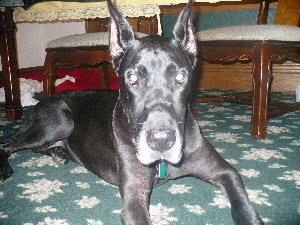 I love my new home!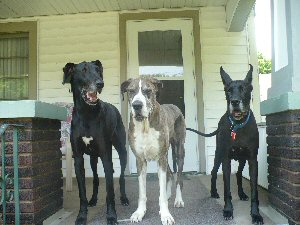 Our nephew Colt is visiting!
All images and text on this site Copyright © 1998-2023 Harlequin Haven Great Dane Rescue, Inc. unless otherwise credited. Use of any image or text without written permission is expressly forbidden. All rights reserved.