Wynter - ADOPTED
ADOPTED: Now who would have thought that an old blind dog like me would find there forever home? Well I have and watch out Stevie I am moving in!!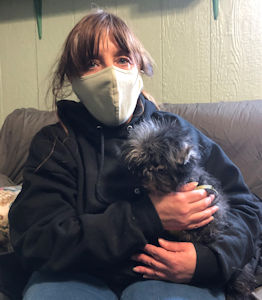 My mommy, she is the greatest!!!
Before Pictures & My Story Below
A local police department in Northern Kentucky contacted Lost Pet Recovery when they found me wandering a busy street. I was immediately taken to MedVet for medical care and the next morning I was transported to All Creatures Animal Hospital in Amelia for continued hospitalization and medical care. It is believed I was either thrown from a car or was hit by a car, I just don't remember. The only thing I can tell you is, I hurt all over and was struggling to breathe.
As you can see by the pictures below I had not been cared for in a very long time if ever and to no ones surprise no one came looking for me!! I spent 5 days at ACAH the first couple in ICU on oxygen. Each day they tried to cut a few more of the mats off me and finally on the 4th day they got the rest of the mats removed!! It felt soooooooo good!!
When I was released from ACAH, I came here to Harlequin Haven and have continued to rest and recover. I slept the first week and a half only getting up to eat and potty. Then I started exploring! I am sharing a room with Jazzy and she is showing me around the house, well sorta! I am blind and I have been for quite some time but I do enjoy going for strolls around the house with her. Jazzy is even sharing her bed with me. Grandma gave me my own bed but I really liked Jazzy's bed better and well it is big enough for the both of us! I also have bunches of sweaters and jackets to wear until my hair grows back, so I do not get cold!!
As soon as I am healthy enough I will be going back to ACAH to be spayed and yes adding to my already large medical bill. MedVet was $300 and ACAH was over $1400.
Update 12/6: Great News!! I was spayed last week and I received my rabies vaccine and I am ready for my forever home!! Okay who wants a tiny dog that sleeps 98% of the day???
Update 12/25: Santa I want to thank you for the warm robe I got for Christmas. I never had a Christmas present before so a warm snuggly robe was great!! I also appreciate all the treats and toys!! Someday maybe I will play with the toys, for now I just enjoy eating and sleeping! I know many people are hoping for a better year next year but 2020 was a pretty dog gone good year for me!!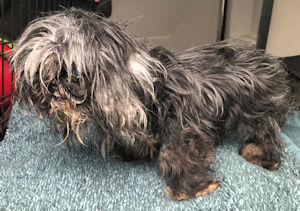 10/26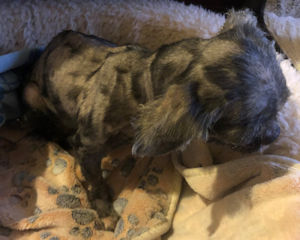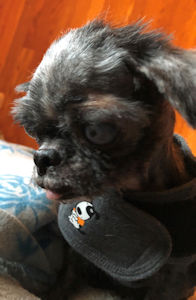 10/30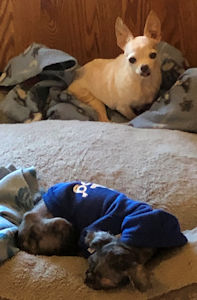 11/1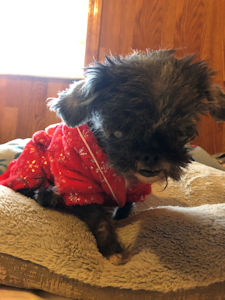 12/25

Breed: Shih Tzu
Date of Birth: Unknown
Description: Female, black and white
All images and text on this site Copyright © 1998-2023 Harlequin Haven Great Dane Rescue, Inc. unless otherwise credited. Use of any image or text without written permission is expressly forbidden. All rights reserved.