Vidal - ADOPTED
ADOPTED: Love and forever happiness are worth the wait!! I was at the rescue for 11 months and seldom even asked about. Then one day he arrived and the rest is history!! I have a loving dad and a 4-legged sister Ruby she was also adopted. We are blessed!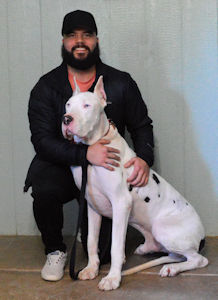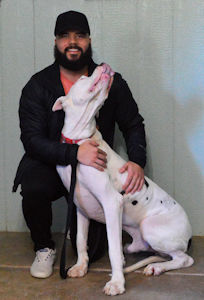 My dad!!! Yes, you can see the love!
Before Pictures & My Story Below
Our owner took Vanessa and myself to the Fayette County Animal Shelter when she was moving and had no where for us to go.
A very nice woman came to the shelter the very next day and drove us both here to Harlequin Haven. As soon as we arrived we were both given soft beds, tons of toys and the most important thing was food!!
Update 11/26: Yesterday was great!! I had a spa day!! I got my ears cleaned, nails cut and a very much needed bath!!! I do not know what I enjoyed most the attention or getting years worth of filth out of my ears or getting that dirt off my body!! Oh heck who am I kidding I loved it all!! Check out my new pictures below!
Update 12/9: Great News!! I am NOW ready for adoption!!!
Update 12/25: OH BOY OH BOY!!! Santa did not forget me!!! He even brought me a blankey and toys just for me!!!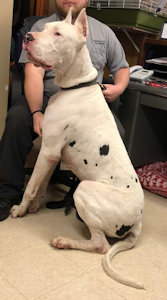 (Picture courtesy of Hardin County Animal Shelter)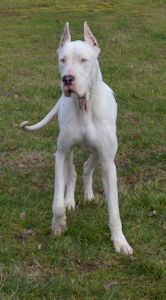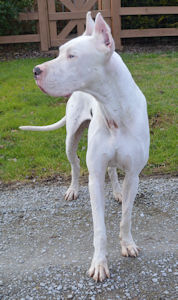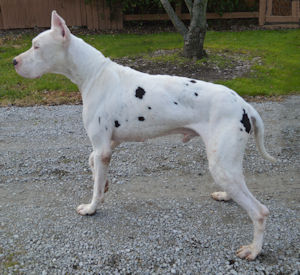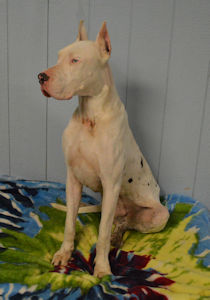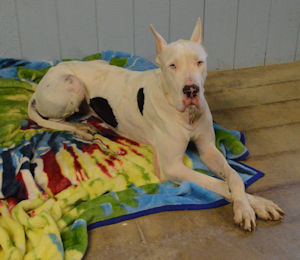 11/26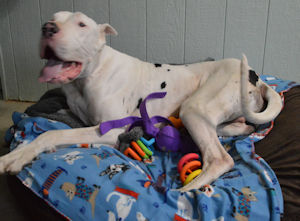 12/25
Date of Birth: 5/1/2015
Description: male, white with black marks, cropped ears, Deaf/Hearing impaired
All images and text on this site Copyright © 1998-2022 Harlequin Haven Great Dane Rescue, Inc. unless otherwise credited. Use of any image or text without written permission is expressly forbidden. All rights reserved.