Victor - ADOPTED
ADOPTED: I have found my forever home!! I have a new mommy and I love my new mommy!! I even have a sister Carrie (4 legged) and Brianna (who was adopted the same day as me) to play with!! I now have a wonderful new life!! Life is wonderful!!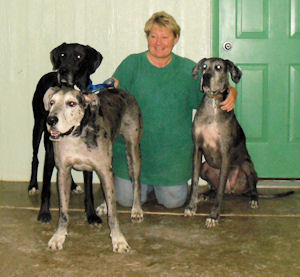 My new family!!! I love my new family!
Click here for more pictures
Before Story and Pictures Below
I was removed from my home by the Humane Society of Warren County when my owner shot me in my paw. I had been living outside with very little shelter and they had warned him to get me proper housing and to properly feed me but even they were shocked when he shot me!! I swear I did nothing to deserve being shot! Unfortunately I had to have surgery yesterday to have my toe amputated due to infection. I am a very good boy and appreciate all the Humane Society did for me including contacting Harlequin Haven to come for me. I need to heal and gain a few pounds before I can start looking for my forever home!! Until then I am going to enjoy living in air-conditioning, with a soft bed and tons of toys, oops I can't forget lots of yummy food!!!
Update July 22: Well Grandma said you all would probably like a quick update so she told me to get to typing!! I am enjoying all the attention I am receiving and I try to spend as little time outside as possible. Grandma says I am getting a bit spoiled. Yesterday I saw a toy I wanted and so I whined and you guessed it Grandma gave it to me. I really do not play much with the toys but I sure like having a lot of them!!! Grandma is soaking my paw every day and she said it is finally starting to look better. She spoke to the vet on Friday and he agreed with her that I needed another antibiotic to help stop the infection so now I am taking 2 antibiotics. She even made me a vet appointment for tomorrow morning so the vet can check it out. She says he is a nice man and I cannot wait to meet him!! Well it is dinner time and I LOVE dinner time so I gotta go!!
Update August 5: Okay so I am not very good at doing updates!!! But I am doing the important updates!! I am NOW ready to find my forever home!! My paw is healed and I am happy and healthy!! I love life and all that comes with having a happy forever home!! I am just happy!!! Okay who wants a happy boy??? Don't forget to check out my new pictures below!!! FYI, I love posing for pictures too!!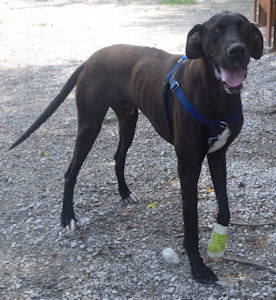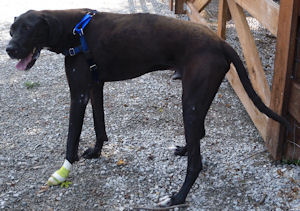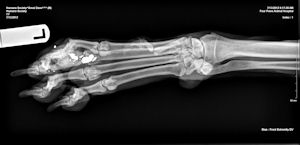 The bright spots in the x-rays are the bullet fragments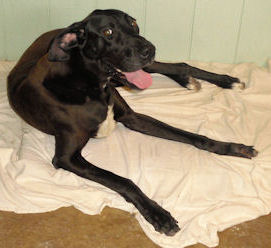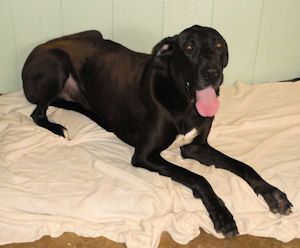 8/5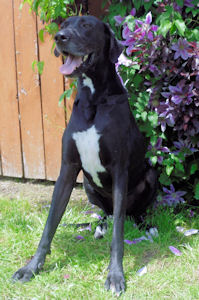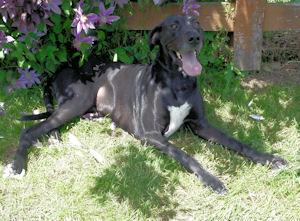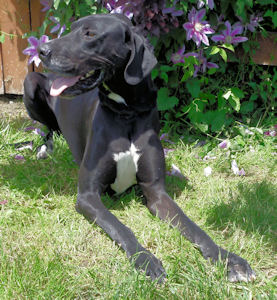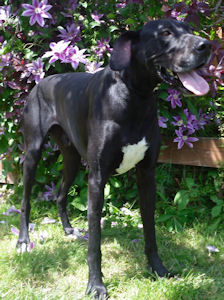 5/26
A must to read before picking your forever Dane!
Black is Beautiful
Date of Birth: 7/2010
Description: male, black with white marks, natural ears
All images and text on this site Copyright © 1998-2023 Harlequin Haven Great Dane Rescue, Inc. unless otherwise credited. Use of any image or text without written permission is expressly forbidden. All rights reserved.