Valentin - ADOPTED
ADOPTED: What a GREAT belated birthday gift!!! My very own forever family!!! Not only do I have a wonderful mommy, daddy and a adorable little sister I have a 4 legged brother and sister at home!! My life is now complete!!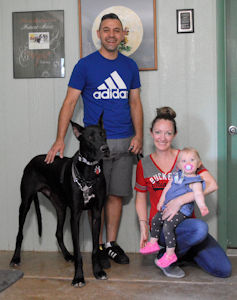 My new family, life is great!!
Before Pictures & My Story Below
When there were just 2 of us left in the litter my breeder gave a man a 2 for 1 special. Unfortunately he did not want 2 Dane pups so he gave me to a friend. Life was great for a couple of days but then I got sick and with my new owners working all the time, they felt it was best that I come to Harlequin Haven where I could get 24 hour a day care.
I have Hypertrophic Osteodystrophy better known as H.O.D. and am in severe pain and when I arrived last night I was running a high temperature. Thankfully I was given some medicine and my temperature is back to normal and hopefully the pain eases up as well.
Update 11/10: Good News!!! I am already feeling better!! I am up walking around and I even go outside to potty without any help!! Hopefully I do not have a relapse. Check out my new picture below!!
Update 11/26: I am feeling wonderful!! I have not had any relapse and life is great!!! I even had a spa day yesterday and got all cleaned up than I went outside to get my picture taken and of course to play!!! Check out my new pictures below!!
Update 11/27: OH MY ANOTHER GREAT DAY!! I am NOW ready for adoption!!! I am a very sweet and loving young man!! I want a forever home that will last forever and love me as much as I will love them!! Also, check out my new picture below, I was playing in the snow today!!!
Update 11/29: My breeder Kristi England found me on the website and called the rescue today to tell them I could not have H.O.D. because I was not old enough and that I had to be 18 months old before I could get it!! When Grandma asked her who told her that and asked if it was a Veterinarian and my breeder said yes. Grandma then told her that the vet did not know what he/she was talking about!!! Grandma told her that YES I did have it and was treated and had gotten over it!! Then the breeder started telling Grandma all about the day I was purchased and how the story is not accurate etc. etc. The breeder kept saying that I was ruining her name and that was when Grandma got upset!! Grandma told her that she needed to stop breeding and that I was a very poorly bred Dane and that a quality bred Dane should NOT be 46 pounds at 7 months old! The breeder did not want to hear that so she hung up on Grandma!!! Grandma told me not to worry that although my breeder is a backyard breeder that I am still sweet and loving and will find a wonderful home!!
Update 12/9: Wow who would have thought I would still be at the rescue!!! Only 1 person has even asked about me!!! I am healthy and not having any relapses as long as you take proper care of me! I am housetrained and cute as a button! I sure hope I get a forever home in 2019!!
Update 12/25: SANTA IS REAL!! I had heard about this fat man that wears a red suit an rides in a sleigh pulled by reindeer and delivers toys to all the good dogs, but I thought the other dogs were lying to me!! I woke up this morning to find new toys and a box of dog biscuits!! So I played with my toys then I went to get a couple of my dog biscuits and there was NO biscuits!! Instead I had another toy, a snuggly blanket, a leash and collar and a bunch of yummy dog treats!! Santa was messing with me!!! What a Great Day!!
Update 4/13: Time sure flies when you are having fun and Willow and I are having fun!!! Today while we were outside playing the volunteers said we had to be serious for a minute and get our pictures taken. Check out my pictures below!! I have grown into a handsome young man, haven't I?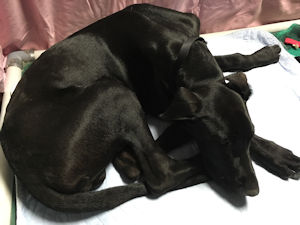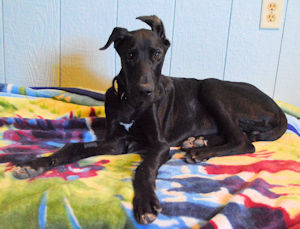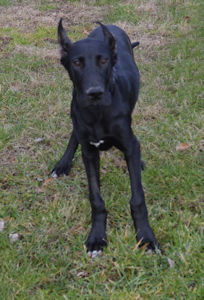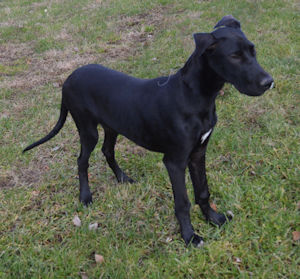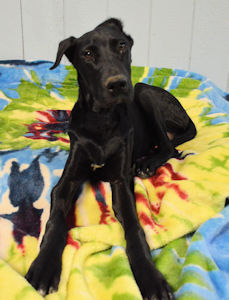 11/26
11/27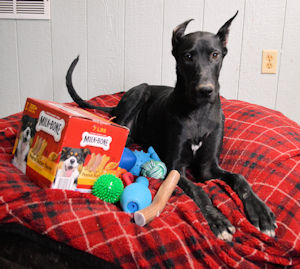 12/25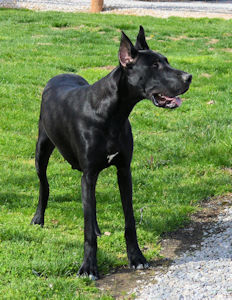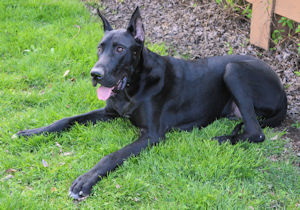 4/13

Date of Birth: 4/24/2018 Breeder: Kristi England
Description: male, black, cropped ears
All images and text on this site Copyright © 1998-2023 Harlequin Haven Great Dane Rescue, Inc. unless otherwise credited. Use of any image or text without written permission is expressly forbidden. All rights reserved.