Ty - ADOPTED
ADOPTED: Well it's about time that I was adopted!!! I came to the rescue in August of 2020 and now 755 days later I found my forever mom and dad!! But hey they were worth the wait!!!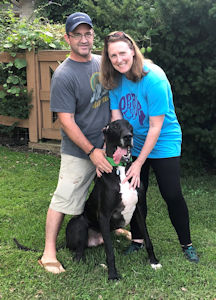 Introducing my forever mom & dad!!

Before Pictures & My Story Below

Even though dogs donít get sick with COVID-19, it sure has changed my life because it changed the life of my family. This Pandemic has put a strain on my mom and dad. My dad lost his job and has been unable to find another. Great Danes are big eaters and their expense is above average so my family could no longer care for me. They brought me to Harlequin Haven because they love me and wanted me to be safe.

Update 8/31: I am now ready for adoption!! I am however still working on gaining weight and keeping all 4 paws on the ground but those are minor things!! I am a very happy and loving boy and that is what is important, just ask me and I will tell you!
Update 9/5: Hey just wanted to share a couple of new pictures of myself so you can see I am just as handsome as I am happy and loving!!
Update 8/15: Yes, I have NOW been at the rescue a year but I have yet to find my forever family!! I am being very picky! I want a family that will play fetch with me for at least 2 hours everyday plus take me for a few walks a day plus hours and hours of hugs and kisses. I am a very happy and affectionate boy and I need the same in return. PLUS, I want proof of job stability as I already lost one home due to lost of a job and I do not want that to happen again! Until I find the home that makes me happy I will stay here at the rescue and enjoy life and yep make Grandma play fetch with me! Check out my new pictures below!
Update 3/13: Yep, I am still waiting on my forever home!! I guess asking for someone to play with me, take me for walks and give me hugs and kisses is asking too much!!! Oh well guess the pandemic has changed people more then I had thought!!

Update 7/10: Hey check out my new pics below!!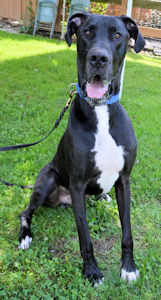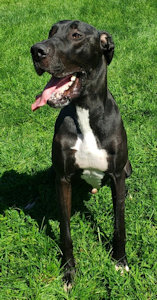 9/5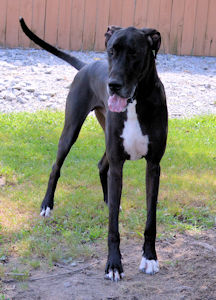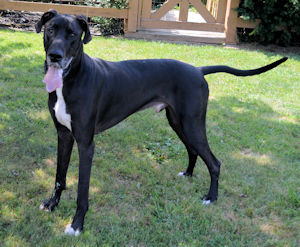 8/15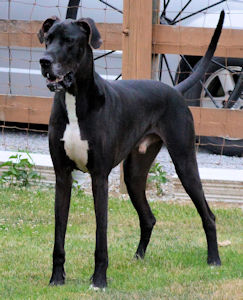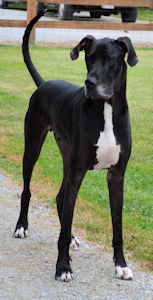 7/10
Date of Birth: 10/09/2017
Description: male, black with white marks, natural ears
All images and text on this site Copyright © 1998-2023 Harlequin Haven Great Dane Rescue, Inc. unless otherwise credited. Use of any image or text without written permission is expressly forbidden. All rights reserved.