Thadius - ADOPTED
ADOPTED: I have found my forever home!! I have my very own dad and I don't have to share him!! Life is GREAT!!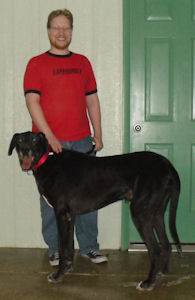 My forever Dad!
Click here for more pictures
Before Pictures & Story Below
I was what many call a repeat offender. I would escape from my yard and go visiting the neighbors, then they would contact Franklin County Animal Shelter to come for me. I was lonely and cold living outside an the nice people at the shelter would come, take me for a car ride, then let me stay in their nice warm building they even would feed me! I am not stupid I do not like being cold and hungry!! After several weekly visits to the shelter my owners told them just to keep me.
The shelter immediately sent me to the rescue. I loved it here, I got fed 3 times a day and had a nice warm bed inside. I even had toys to play with! But then one day a nice family came and adopted me and I thought I finally had my forever home but again I was wrong!! I had my home for over 1 year and really thought all was great until the separation came and my remaining owner started traveling a lot for work. At first he tried to keep me but his friends got tried of helping take care of me when he was out of town. Although I am an older boy I am very playful and energetic and most people want an older Dane to just around. So anyone wanting a happy, playful older Dane that doesn't act his age?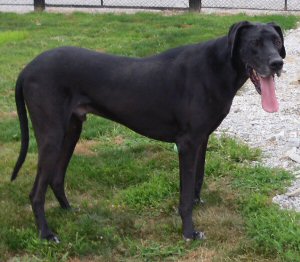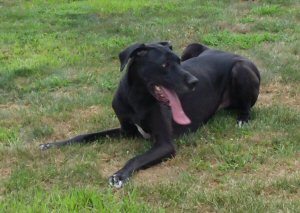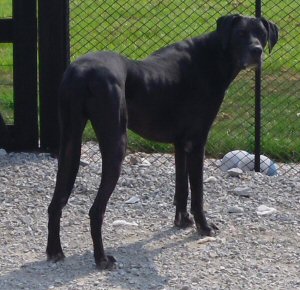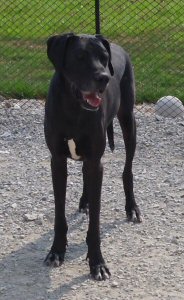 Date of Birth: 6/2004
Description: male, black with white marks, natural ears
All images and text on this site Copyright © 1998-2023 Harlequin Haven Great Dane Rescue, Inc. unless otherwise credited. Use of any image or text without written permission is expressly forbidden. All rights reserved.