Star AKA Amy
I was turned into a Northern Ohio Dane rescue when I was only 6 months old. When the woman at the rescue became ill, she asked HHGDR to take me and find me a new home. I quickly found a new home, and thought It was my forever home but after three years my owner decided to get married and have a baby! Her new husband was jealous of me, and said that I had to go! Even the cat had to go! He said we both required too much attention, and he wanted NO competition in the family. I had been a loved family member, and I was looking forward to the new addition of a baby in our home, but the NEW husband won. NOW I am homeless! God forbid that the baby takes any attention away from him, because I am sure the baby would be dumped if it does! I hope my ex-mom knows what the kind of life she is in for being married to a man who is so insecure that he is jealous of a dog and a cat.
I have now found my forever home and this time it is forever!!! My mom is wonderful and I even have brothers and sisters!!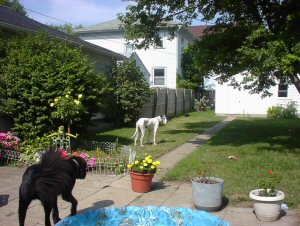 Hummm do ya think I don't see ya coming!!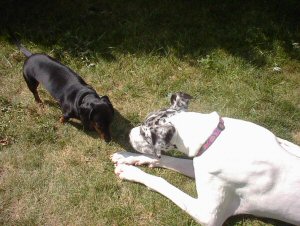 Okay I will share with you!!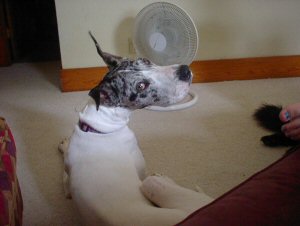 Thanks for the fan mom I love the wind blowing in my face!!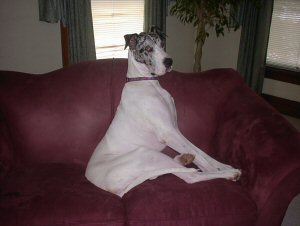 This is MY couch!!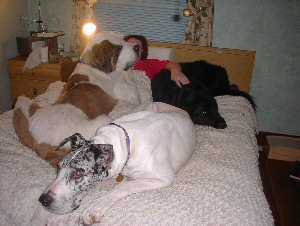 For Christmas mom adopted Cass from the rescue NOW we need a bigger bed!!!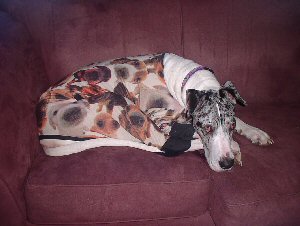 I got NEW pajamas because I get cold!!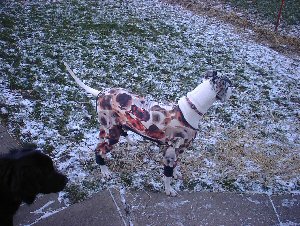 But mom I want to show the neighbors my new pajamas!!!

All images and text on this site Copyright © 1998-2023 Harlequin Haven Great Dane Rescue, Inc. unless otherwise credited. Use of any image or text without written permission is expressly forbidden. All rights reserved.