Siri - ADOPTED
Adopted: There's an old saying that Grandma told me "good things come to those that wait". Well I waited and great things came!! I found my forever mommy and daddy!!!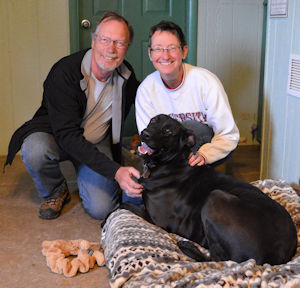 My mommy & daddy, my life is now perfect!!!
Before Pictures & My Story Below

I was found roaming in Clark County and was taken to the Humane Society of Clark County. When my stray time was up the nice people at the shelter contacted Harlequin Haven to come for me. I was so scared at the shelter I was not eating and was making myself sick. I immediately relaxed as soon as the HHGDR volunteer arrived at the shelter to pick me up!! Things just got better from there!! When I arrived here at the rescue I made a bunch of new friends and was given a soft bed, lots of toys and ya can't forget all the hugs and kisses the volunteers keep giving!!
Unfortunately there is always bad news, I am heartworm positive!! My new Grandma told me that people will just never learn, she said heartworm is so easy to prevent (1 or 2 pills once a month) but people think that it will never happen to their dog!! She said people apply to adopt and will actually brag that they don't give heartworm preventative and their dog doesn't have it!! But she says one day their dogs luck will run out and when it does their dog will be the one suffering and so will the people's wallets well if they care enough to treat their dog! Well Grandma says I need to get ready to eat dinner, I will update you as soon as I can.
Update 9/10: I will be spayed this week than once I recuperate I will start my heartworm treatment!! Until then I just am enjoying life and playing with all my new friends!! Check out my new pictures below! You can see how much I enjoy life especially laying on furniture!!!
Update 9/25: I just wanted to give everyone a quick update to let you know that I will be starting my heartworm treatment very soon! I also want to thank all of you who donated to pay for my treatment. You do not know how much your care and support means to me!! Thank You!!!
Update 10/20: Well I my heartworm treatment has started and wow this is painful!! I had 1 injection on Saturday now I wait 1 month and than I will have the remaining 2 injections!! I wish my owners had cared enough to give me heartworm preventative so I wouldn't have to go through all of this!! Of course had they cared I would not be here now!
Update 11/20: I have completed my heartworm treatment and now we wait, hopefully all of those nasty worms have died!! I did ask Grandma to take a couple of new pics of me to share with you!! Check my new pics out below. I am adorable aren't I?
Update 1/22/17: I have GREAT NEWS!!! I am heartworm negative!! I am NOW ready for adoption!!!
Update 12/11: Check out my new picture below!! I got a box in the mail from my Secret Santa and I had a blast opening the box and playing with the new toys!! Don't tell the others I swiped a few of their new toys too!!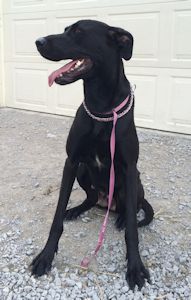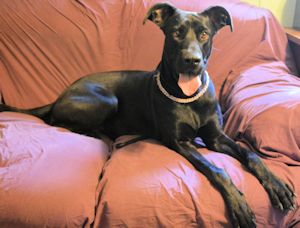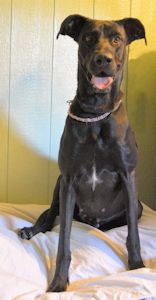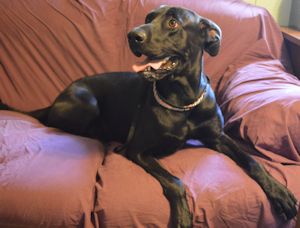 9/10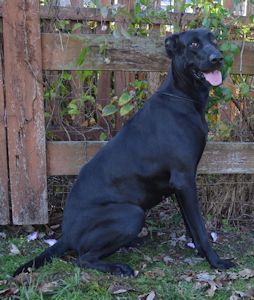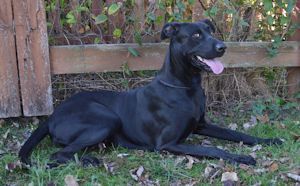 11/12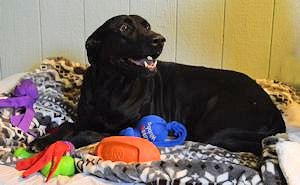 12/9
Breed: Labradane (Designer breed)
Date of Birth: 8/2014
Description: female, black, natural ears
All images and text on this site Copyright © 1998-2023 Harlequin Haven Great Dane Rescue, Inc. unless otherwise credited. Use of any image or text without written permission is expressly forbidden. All rights reserved.