Silas - ADOPTED
ADOPTED: My new family had been using the excuse for months that the dogs here at the rescue needed to be socialized well I knew they were coming just to see me!!! Mom just had to convince Dad that I was what she wanted for Christmas. Well we both got our Christmas wish a little late but HEY better late then never!! Thank you Santa!!!

My new family (minus Dad)!! I love my new famliy!!
Before Pictures & My Story Below
I was found roaming the busy streets of Columbus and taken to the Franklin County Animal Shelter. When my owners did not come looking for me the shelter contacted Harlequin Haven to come for me. That was 6 years ago, I was adopted in March, 2015.
Update 3/22/20: I thought I had my forever home unfortunately my dad became ill and mom brought Kalea and I back to the rescue so we could find new homes.
Update 9/5: Added a few new pictures so you could see I am still very handsome but now I am very distinguished!! Plus, I am twice as sweet as I am handsome!!
Update 11/1: Just wanted to give you a quick update. I got sick last week and spent a lot of time at the Vets office and although we are still waiting on more test results I am being treated for a kidney infection, protein in my urine and fluid around my heart. While I was at the Vets office my heart rate was high but once I got back home and relaxed my heart rate has returned to normal!! So far my vet bills have totaled $1451.76. Hopefully soon I will be 100% again!!
Update 11/13: Great News!!! I went to see Dr. Cheryl Harris Board Certified in Internal Medicine and Oncology today and she looked over all my records and did another ultrasound and I was given a clean bill of health!! I have finished my antibiotic and will stop taking the Lasix. I had told Grandma that I was feeling great and did not need to go to the Doctor but she wanted proof!!
I want to thank everyone that donated to the rescue to help pay my medical bills. We know how difficult things are in todays world and can not thank you enough!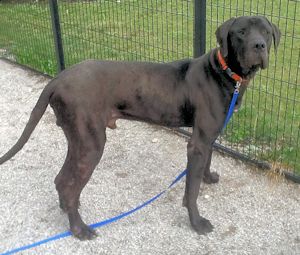 Picture above courtesy of Franklin County Animal Shelter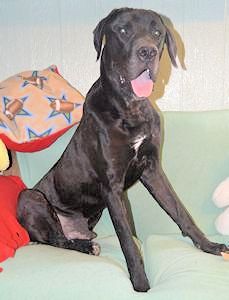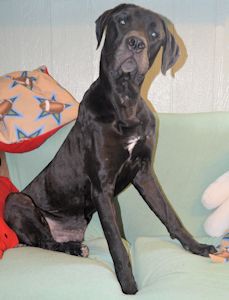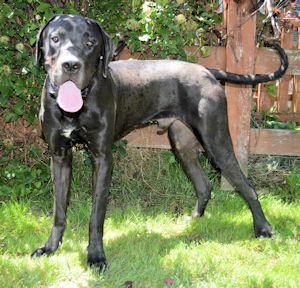 7/5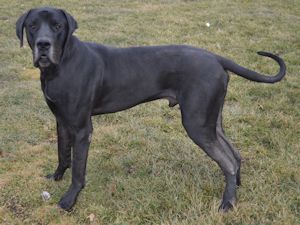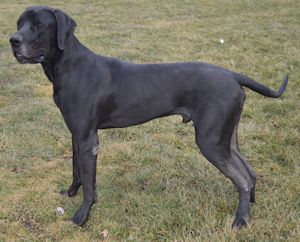 1/24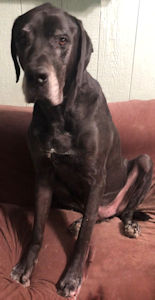 3/22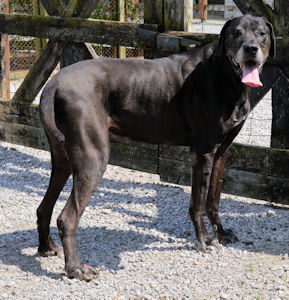 6/6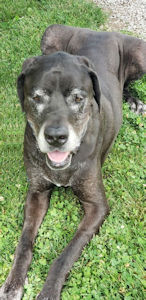 6/14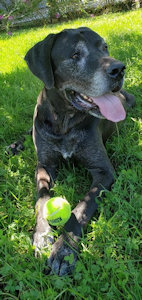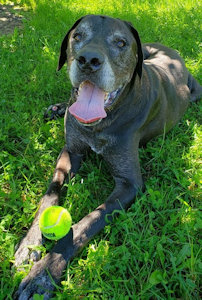 9/5


Date of Birth: 8/2013
Description: male, black with white mark, natural ears
All images and text on this site Copyright © 1998-2023 Harlequin Haven Great Dane Rescue, Inc. unless otherwise credited. Use of any image or text without written permission is expressly forbidden. All rights reserved.