Shania aka Sheba
My sister Patsy aka Patches and I arrived in the middle of the night to Harlequin Haven Great Dane Rescue. We were transported out of Missouri and brought to Ohio by a German Shepherd Rescue along with 25 other dogs that had been sold at a Puppy Mill Auction. We had not been sold at the auction, a man that works for the USDA had contacted the GSR and asked her to take us too. We were extremely scared, hungry and tired when we arrived at the rescue. We had came over 400 miles and 12 hours crated together in a extra large crate. We could not move or even stand up completely. Grandma at the rescue was not happy when we arrived. We had no vet records, loaded with fleas and come to find out she had not been aware we were coming till shortly before we arrived. She really was not happy to see how we had been transported either. But lucky for us she made us both feel very welcome. We were taken inside a building (something we were not accustom to) and were immediately treated for the fleas, then given a soft bed, food and water.
Our time at the rescue was good. We were bathed and given tons of loving something we both enjoyed! We now have our forever home together and life is wonderful!!! We love our new mom an dad and can not imagine life without them!!

I love being petted!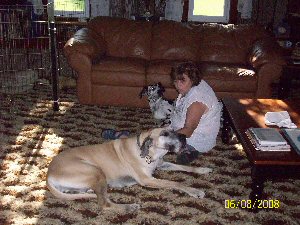 Having a family is the best!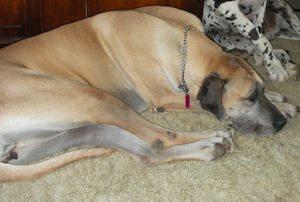 I'm bored!!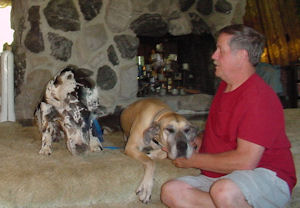 Daddy loves me best!
All images and text on this site Copyright © 1998-2023 Harlequin Haven Great Dane Rescue, Inc. unless otherwise credited. Use of any image or text without written permission is expressly forbidden. All rights reserved.