Sasha R.
I was purchased in Florida as a puppy and brought back to Ohio. At first I was loved and treated quite well--I lived in the house as a family member. But then this winter I was tossed outside to live in a dog house! I even had a horrible chain put around my neck so that I would not get away. Then one day they stopped coming outside to feed me and all I had was my feces and mud to eat. Luckily then they called HHGDR to come for me as they did not want to get their car dirty by putting me in it.
Two wonderful women showed up to get me and they were so gentle with me, like I used to be treated. As soon as I arrived at the Rescue they cut the chain off my neck and gave me a warm dry bed inside for me to rest and even a bowl of food. I am a very sweet girl and just needed a family to love me as I will love them. Unfortunately I was heartworm positive and had to be treated prior to being allowed to be adopted. Once I was treated and healthy I started looking for my forever home. It took me almost 2.5 years to find just that right home but I found it and have a forever family that loves me just as I love them!!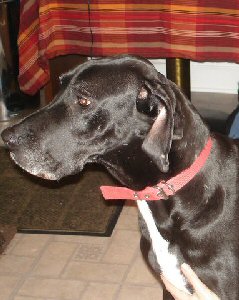 Can you see how content I am???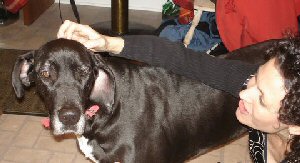 This is my mommy loving on me!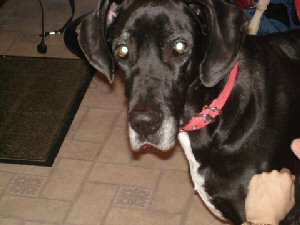 Yep this is the life!!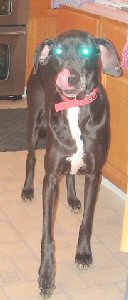 Mom says this picture looks funny but we all know that is the sparkle in my eyes!!

Watching TV with Dad is great if I just understood what game those guys are trying to play!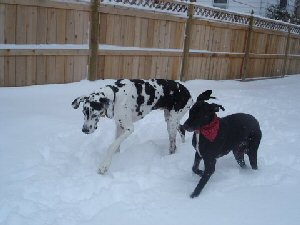 Ya wanta race????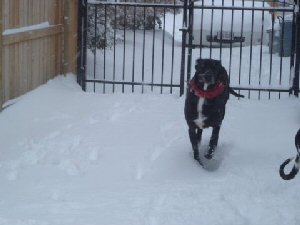 I can beat ya even with a head start!!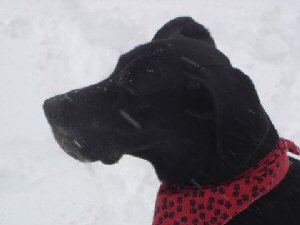 Okay it is getting cold out here!

Glad we are inside!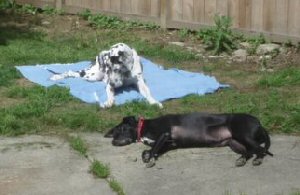 We are working on our suntans!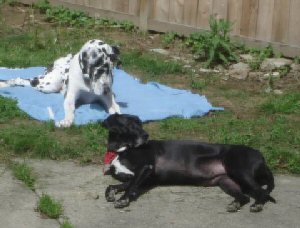 Stupid flies!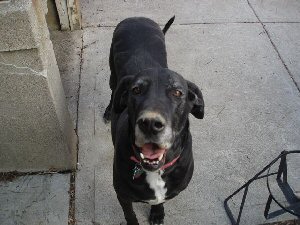 I just love spring!
All images and text on this site Copyright © 1998-2023 Harlequin Haven Great Dane Rescue, Inc. unless otherwise credited. Use of any image or text without written permission is expressly forbidden. All rights reserved.