Randi - ADOPTED
Adopted: I have found MY FOREVER HOME!! I have the 2 bestest dads and a brother Felix he was adopted 3 years ago, I have everything I have ever dreamed of!!!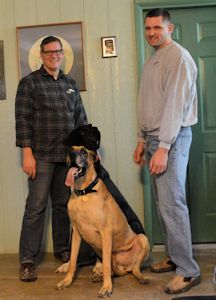 Our first family portrait!!

Click here for more pictures

Before Pictures & My Story Below

I was purchased from a backyard breeder in Missouri and flown to Ohio when I was 12 weeks old. My owner planned to breed me but lucky for me that didn't happened. My owner was not a true dog lover and he was not tolerant of my normal puppy behavior. People questioned him about why he even got a dog. Then one day the neighbors called animal control because they could see my bones were sticking out. Well, that really upset my owner because now animal control realized that I had been not licensed. My owner was given 14 days to get me licensed and also to have a vet determine if I was skinny because of health or lack of food. My owner got really angry.

As you can see from my pictures below, I am very emaciated. I actually weigh almost exactly the same as I did when I was 6 months old! If you look closely at the pictures of my head, the one on the left, you can even see where my right side of my face is swollen. The picture on the right was taken less then 24 hours later and the swelling has already gone down to some degree. It is the opinion of the rescue that my condition is consistent with abuse and neglect. The rescue has already scheduled a vet appointment for next Tuesday. This will be with an orthopedic surgeon to see if I have any medical issues.

I am so thankful that my owner decided to release me to Harlequin Haven. A nice man immediately came and took me to a safe place. The rescue contacted my breeder (per the rescue's policy) and he didn't even asked how I was - even after seeing the pictures the rescue sent him of me. Instead all he cared about was the rescue's plans to spay me!! His exact words were, "Please contact me at your earlist convience before you destroy the breeding capabilities of my animal." He even told Grandma "If you want this animal, I will consider selling you my rights." Grandma let him know that the rescue was not paying him a penny!! She asked him if he wanted to provide financial support or make a donation toward my care and his reply was, "Without ownership I surely have no responsibility as both go hand in hand. Since your intention is to alter this critter so that it cannot reproduce, I am not intersted in retrieving this animal!......... I hope she goes to a good home! I think you charge fair and reasonable prices." I guess he doesn't understand that a reputable breeder would want to provide for his puppy and that a rescue is not making money from their dogs like he is. Rescues are trying to end the problem of homeless dogs and not continue to add to the homelss population.

Grandma told me not to worry, that I am safe, and I would get the medical care I need, and that I will never have to worry about having puppies!!!! Grandma told me all about last year when Kaden was here. The same breeder did not bother to get back in touch with the rescue when he was contacted at that time. Since Kaden was already neutered he was of no value to him.

I did not want to go back to him because I want a loving home and a soft bed to lay on instead of living in a dog house!! I am being fed regularly and receiving lots of hugs and kisses. My breeder even says on his website that we should be couch potatoes. So why do his dogs live outside in pens and on chains/cables???

Click here to see my AKC papers.

Update March 27: From Grandma: Randi was taken to see the orthopedic surgeon today and overall it was good, he found no problems with her hips, spine or knees but unfortunately the right side of her muzzle is either deformed due to hereditary defect or blunt trauma (was broken and received no medical care). She has malocclusion (a misalignment of the teeth) he said it should not cause her any problems but something that should be watched in the years to come. He felt that she would lead a normal life. He did not want to sedate her to take x-rays due to her extreme lack of weight for a non-emergency situation.
Update April 1: I now weigh 88.2 pounds!! I still need to gain about 20 pounds but needless to say the reason my ribs and hip bones were sticking out was due to lack of food and not a health issue!! I am enjoying playing with my new friends and yes I really enjoy all the food and treats I am receiving!! I will try to get a new picture taken this week so you can see how much weight I have gained!
Update April 7: I had Grandma take my picture today check them out below, plus I got weighed!! I now weigh 98 pounds!!
Update May 20: Wow guess I forgot about updating my webpage huh! Okay since I last wrote I gained my weight and I have been spayed, had my head x-rayed. I have malocclusion but don't worry it does not cause me any problems it just makes me look a tad bit odd but most people don't even notice it. The vet said it probably was due to defective genes whatever that means! But hey I am not defective I am cute and adorable just ask me and I will tell you!!! Well I am ready for my new home and I can't wait, so hurry up forever home!!!! BTW, I love to play and would love a family that would play with me!!
Update June 17: Just thought I would get some new pics so you could see how happy and beautiful I am!! Plus to let you know that I am still looking for my forever home!! Grandma keeps telling us that the right home is out there we just have to be patient. Ya know some days that is easier said then done!!
Update April 27, 2016:

Two and a half years ago I was adopted and although everyone including myself wanted it to be my forever home it was just not meant to be. I am now back at the rescue and looking for a new home.
Update 11/21: Okay folks 6 yrs. old is NOT old I am a beautiful Dane with tons of life left in me!! Check out my new pictures below and tell me I am not gorgeous and that you could catch me!!!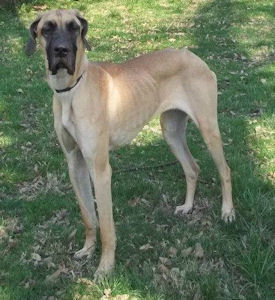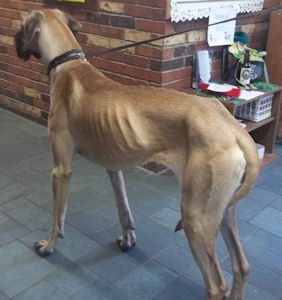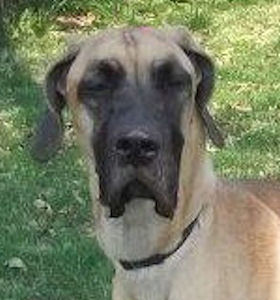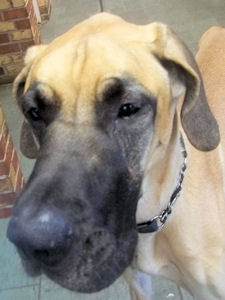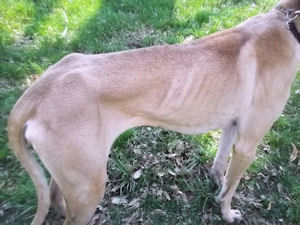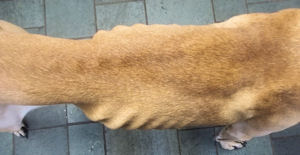 3/20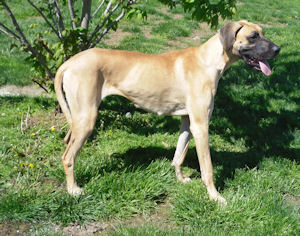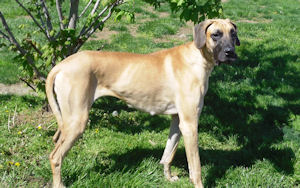 4/7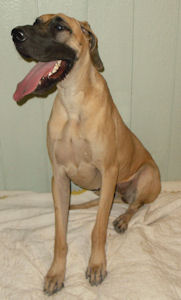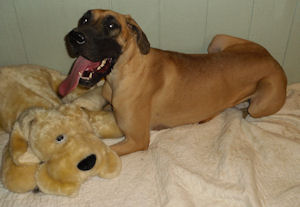 6/17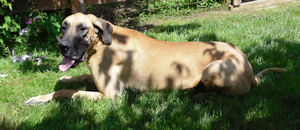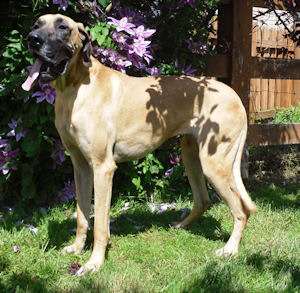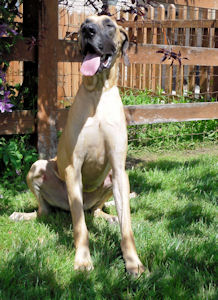 5/24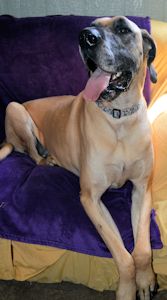 4/24/2016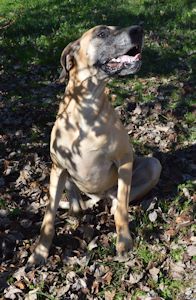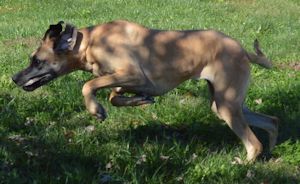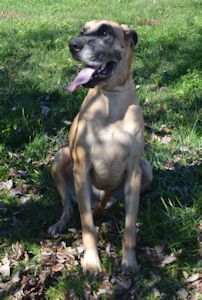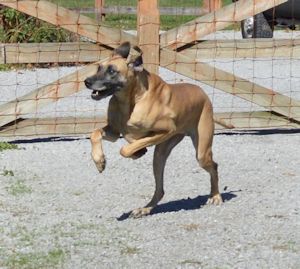 11/5
Date of Birth: 10/12/2010 Breeder: Roger S. White
Description: female, fawn with black mask, natural ears
All images and text on this site Copyright © 1998-2023 Harlequin Haven Great Dane Rescue, Inc. unless otherwise credited. Use of any image or text without written permission is expressly forbidden. All rights reserved.