Priya - ADOPTED
Pronounced "pree-ya"
ADOPTED: I have found my new family!!! I have 2 - 2 legged little brothers, a kitty and a wonderful mom and dad!! Life just keeps getting better!!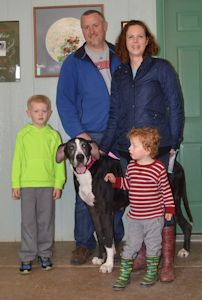 My new family!!
Before Pictures & My Story Below
My first owners used me as a breeding machine and after having litter after litter I had become so ill they no longer wanted me. My second owners found me on Craigslist. After I got well I started to challenge the other female Dane in the home and we began fighting. Unfortunately they could not handle the 2 of us fighting so they contacted Harlequin Haven and they agreed to welcome me.
When I arrived at HHGDR I had a lot of attitude. After several months I learned I did not need to have attitude to survive. I learned being sweet and loving was so much more rewarding and I loved my new sisters at the rescue! One day a woman came and we fell in love. I was adopted!! Life was perfect. I became a service dog and was her constant companion. At Christmas time that year Mom even adopted a brother for me. Toby and I could keep each other company while she was at work! Life was wonderful!! One day Mom started dating a man. He was nice, but next a young child moved in, then a second child, and than she got married. Toby and I tried to show her we were unhappy and 5 months ago we ran away. We thought it had worked, but I guess it didn't because we are now back at the rescue looking for a new home!
Date of Birth: 7/6/2008
Description: female, mismarked mantle, natural ears
All images and text on this site Copyright © 1998-2023 Harlequin Haven Great Dane Rescue, Inc. unless otherwise credited. Use of any image or text without written permission is expressly forbidden. All rights reserved.