Presley - ADOPTED
ADOPTED: What a way to start the New Year!!! I got my prayers answered I got a New Mommy!!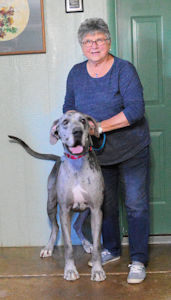 The first day of the rest of a wonderful life!! Oh yeah I also got a new name to go with my new life!! My name now is Dax.
Before Pictures & My Story Below
My life has been full of ups and downs! I have been a beloved pet and I have been a guard dog, although I think I failed as a guard dog!!! My last owner was an alcoholic and had me chained to his garage as a guard dog, then one day 2 women saw me and were concerned for my welfare. The women started stopping by every day to make sure I was fed and watered and started talking to my owner about letting them have me. Well it took them a few trips but the day he was being evicted he decided they could have me. As you can see from the pictures below, I had no shelter, no bed, no water or food, I had nothing but the log chain and a padlock! At first my owner said he had purchased me 1 1/2 years ago from a puppy mill but then later he changed it to I was adopted from the local Humane Society. Within hours of my owner telling the nice ladies they could have me I arrived here at Harlequin Haven! I now have a soft bed, tons of toys and I am being fed on a regular basis.
Update 6/10: I decided I needed some new pictures to show how handsome I am!! Check them out below!
Update 4/13/19: My life continues to be full of ups and downs!! I was adopted last November and although I thought it was my forever home I ended up being too much dog for them!! After 5 months they contacted the rescue to bring me back!!! It is great to be home, where I have lots of friends that will play with me!! The bad part is Grandma told me I have to lose about 20-25 pounds!! She says I am fat!! UGH this does not sound like fun!!!
Update 5/26/19: Well I have lost a couple of pounds and have a very long way to go but Grandma said I could start looking for my forever home! So do you want to help a fat boy slim down???
Update 12/16/19: Well have you ever seen a Dane as handsome as me???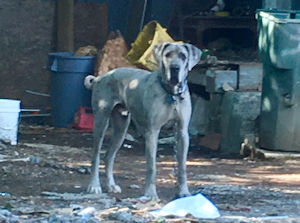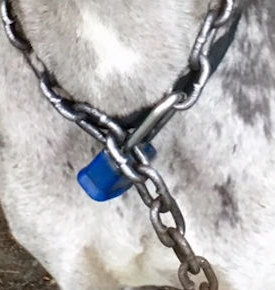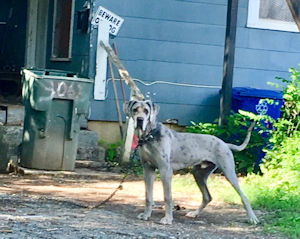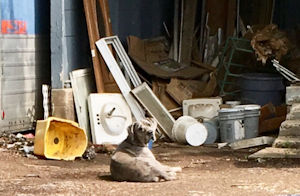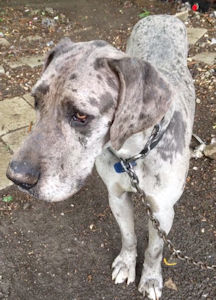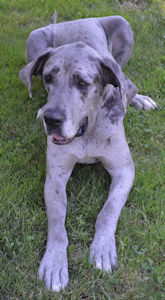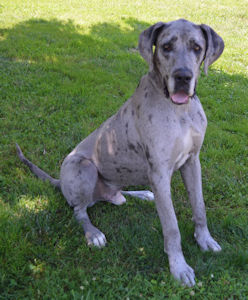 6/10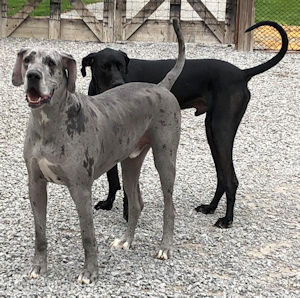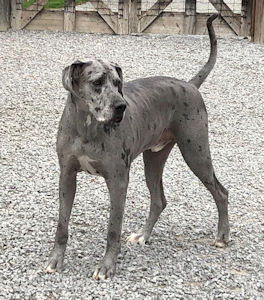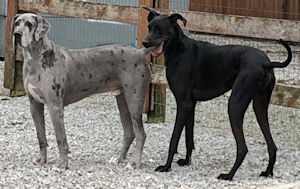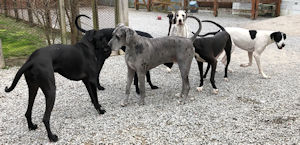 4/13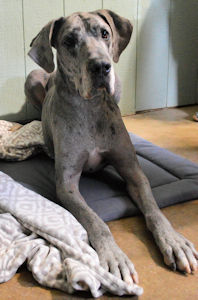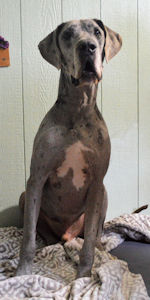 Date of Birth: 3/14/2015
Description: male, merle, natural ears
All images and text on this site Copyright © 1998-2022 Harlequin Haven Great Dane Rescue, Inc. unless otherwise credited. Use of any image or text without written permission is expressly forbidden. All rights reserved.