Peri - ADOPTED
Adopted: Wow what a GREAT Christmas present I got this year!! I got a new mommy an daddy plus a brother!! This is the best Christmas ever!!!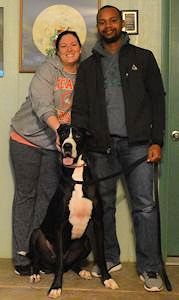 Love is in the air!!!

Before Pictures & My Story Below

My owners dumped me at the SPCA Cincinnati when they no longer wanted me. They said I played to rough and aggressive with the other 2 dogs in the home. I am 20 pounds plus underweight do ya think it could have been over food??? Ya know if you feed a dog it makes them a happy dog! Just sayin'.

Within hours of the shelter calling Harlequin Haven I was on my way to the rescue and to a better life. I now have a soft bed to snuggle on, tons of toys, plenty of other Danes to play with and best of all I am being fed many small meals a day PLUS I get treats!!!

Update 5/21: I have now been at the rescue 1 week and I went from 90 pounds to 102 pounds!! Life is going great, I have lots of friends to play with, plenty of food and toys, a gal can't ask for much for than this!!
Update 6/19: Sorry I have not given you an update lately but I have been very busy!! I have lots of friends and toys to play with and there is just not enough hours in the day. I have gained another 5 pounds and yes I know that is not much but Grandma says it is because I am constantly playing! I love to play and bounce and just enjoy life!!! Check out my new pictures below!!!

Update 7/10: I am ready to find my forever home!! I am a lean playful Dane and need an active family. Grandma and the volunteers are still working on my manners I like to sneak up behind you and jump on you!! Grandma says it is not nice but I keep telling her it sure is fun! I am a work in progress!!

Update 9/10: Since no one has adopted me yet I had Grandma take a couple of new pictures of me! Yes I am still beautiful and yep very playful!!!

Update 11/21: Yep more new pictures below!! I just love to play!!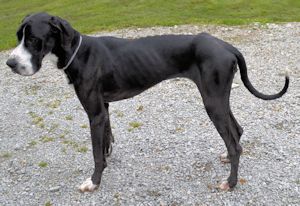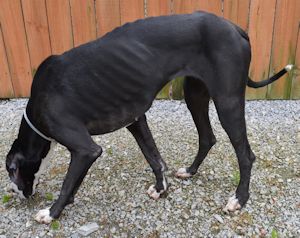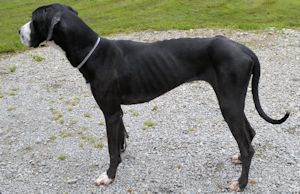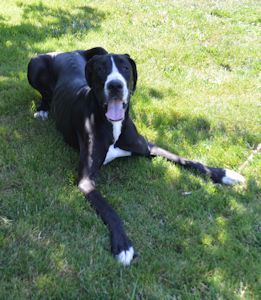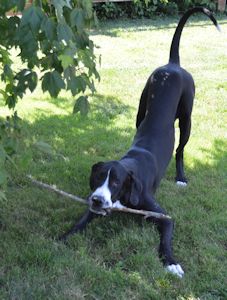 6/18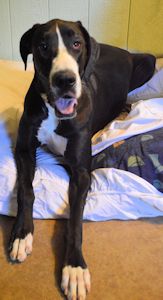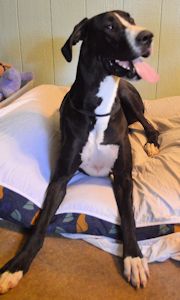 9/10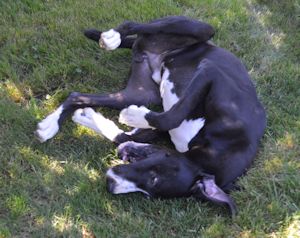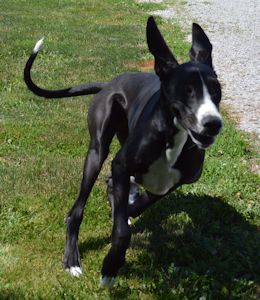 11/5
A must to read before picking your forever Dane!
Black is Beautiful
Date of Birth: 12/27/2014
Description: female, black with white marks, natural ears
All images and text on this site Copyright © 1998-2023 Harlequin Haven Great Dane Rescue, Inc. unless otherwise credited. Use of any image or text without written permission is expressly forbidden. All rights reserved.