Paul - ADOPTED
ADOPTED: Wow I can't believe my good luck!! I found my forever home already!! I am sure it was my pleasing personality that won them over!! I even have a new name!! My new name is Bowie!!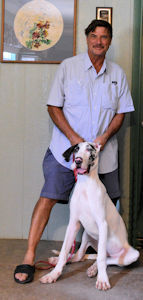 Introducing my new dad!! Mom was there but was having a bad hair day!
Click here for more pictures
Before Pictures & My Story Below
I am a Petland Puppy! My breeder sold me to Petland where I sat in a cage until I was sold! Originally Petland was asking $2999.99 by time I turned twelve weeks they had me reduced to $999.99 then I got really sick and my price was reduced to $699.99! What a bargain I was!! My new owner took me to the vet like required in my contract and was given antibiotics and special food and I did have x-rays and was checked for Parvo but the next day my owner knew I needed more! I was rushed to the emergency vet where I was hospitalized with pneumonia and put on oxygen!! I was in the hospital for almost a week and was still very sick when I went home. My owner spent over $1800 to save my life!!
When my owner had decided to buy me she wanted a puppy to grow up with her 3 year old child and when she saw me in Petland I was very laid back and gentle. Well things changed when I got healthy!! It was not long before my owner realized I was a bit more than she could handle especially living in an apartment. At first she thought about rehoming me herself but after a bit she decided it was in my best interest to be with a rescue that understood the right type of home I needed and deserved!!
I have some new friends to play with and tons of toys so life is good!!
Update 7/22: Great News!! I am now ready for adoption!! I am all boy too, I was supposed to get my picture taken today but when Grandma took Paisley and I outside I got muddy than got Paisley muddy! LOL It was so much fun!! Oh well maybe she will get pics of new next time!
Update 7/29: Wow did we have fun Saturday!!! Paisley and I went out in the big yard and played!!Unfortunately NO mud! Check out the pics below!!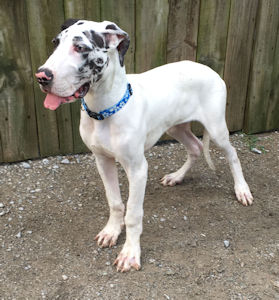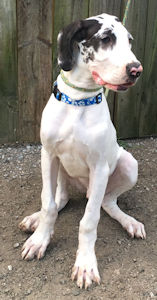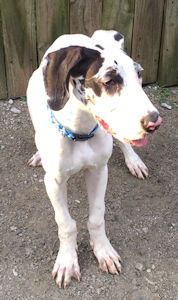 6/22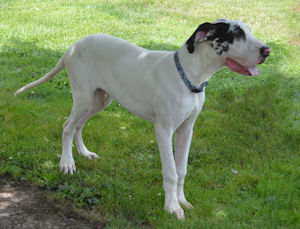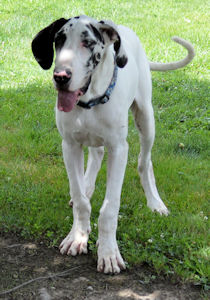 7/29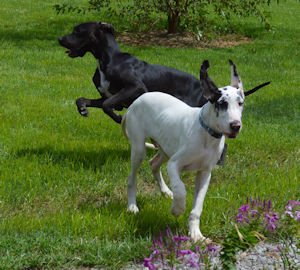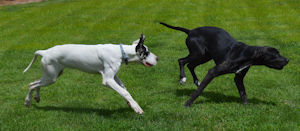 Date of Birth: 2/2/2018 Breeder: Stephen & Mary Stoltzfus
Description: male, harlequin, natural ears
All images and text on this site Copyright © 1998-2023 Harlequin Haven Great Dane Rescue, Inc. unless otherwise credited. Use of any image or text without written permission is expressly forbidden. All rights reserved.