Pasha - ADOPTED
ADOPTED: I have found my forever home and I have a wonderful family! I have 2 4-legged siblings and another mom too!!! I can't wait to get to my new home and see everyone again!!!! Life is the bestestl!!!!

I love life and especially my new mom that will be staying home with me!!!
Click here for more pictures
Before Pictures & My Story Below
My owner found my breeder on the internet at a place called S&S Blue Haven Danes in Highland County Ohio. When she contacted the breeder they arranged to meet at a gas station. My owner believed everything the breeder told her including that the odor I had and hair loss was due to being outside. When my new owner realized that I was not healthy she contacted the breeder who would not respond to her. Finally she decided that she did not want a unhealthy puppy so she took me to Animal Rescue Fund and turned me over to them. They immediately contacted Harlequin Haven Great Dane Rescue.
When I arrived at Harlequin Haven I was immediately given a nice clean soft bed, tons of toys and plenty of food and water. All was going great till my breeder called HHGDR and told them that she wanted me back. Having seen that I have mange the rescue told the breeder that in my condition I could not be released. My breeder told the rescue that she has medication to treat the mange. Then the breeder denied that there was anything wrong with me and blamed my owner for making me sick in less then a week, but the rescue told her that there was no way I got this bad in less then a week. Finally the rescue got her to admit that she knowingly sold my owner a sick puppy!!! She told the rescue that this happens all the time!!!
Grandma at the rescue told me I will go to the vet and get proper medical care!!
Update March 3: Hopefully it will not be long now!! I am hoping only a few more weeks!! I have added a couple new pics so you can see that my hair is finally coming back in, of course I am growing up so no one will want me anyway!!
Update March 24: My hair is coming back in really well and I am scheduled to be spayed next week then hopefully in a few weeks I will be ready for my forever home.
Update April 2: Great News I am ready for adoption!!! My hair is in and I am spayed and ready for my forever home!! There are a few requirements I want tons and tons of toys and I prefer at least 1 new toy per day and LOTS and LOTS of love and attention!!!! Yes the rescue has spoiled me and I plan to stay spoiled!!So if you can give me tons of toys and lots of love and attention then maybe you are my forever home! I will see if I can have Grandma take a new picture of me later this week.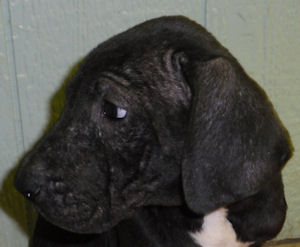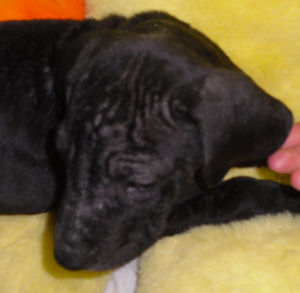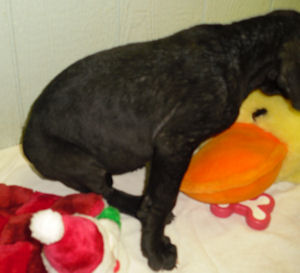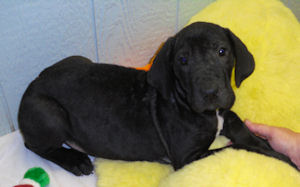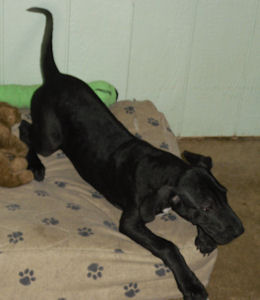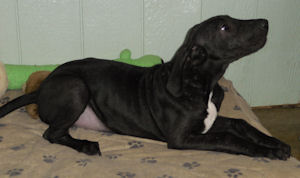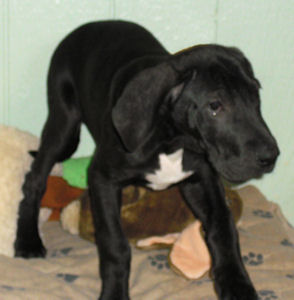 3/3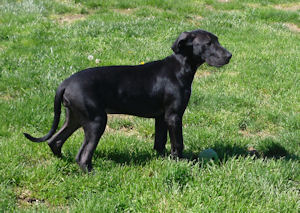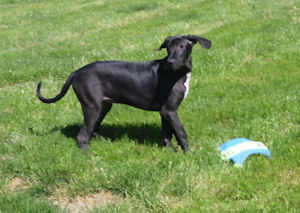 4/7
Date of Birth: 11/25/2011 Breeder: S&S Blue Haven Danes
Description: female, black with white marks, natural ears
All images and text on this site Copyright © 1998-2023 Harlequin Haven Great Dane Rescue, Inc. unless otherwise credited. Use of any image or text without written permission is expressly forbidden. All rights reserved.