Paisley - ADOPTED
ADOPTED: What a GREAT day!!! I found my mommy and daddy and they love me almost as much as I love them!!! They came to meet me a couple of weeks ago and when they didn't come back, I thought they didn't like me but apparently they were waiting for all my new stuff to be delivered to my new home!!!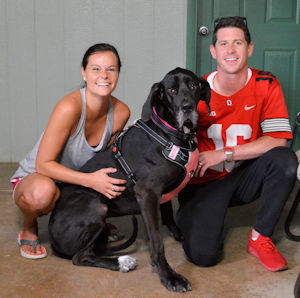 Introducing my mommy and daddy!!! Don't we make a beautiful family!!

Before Pictures & My Story Below

Click here for more pictures

I was dumped in Martens Park in Lancaster, and left to fend for myself!! I was terrified and hungry when this nice man showed up and started giving me bunches of yummy food!! When he ran out he actually went and bought more for me!! Then 2 other men showed up and they built this fence thing and well when the nice man put food in the fence thingy I had to go get the food and well the rest is history!! He caught me and they took me to the Fairfield County Animal Shelter where I had to wait a stray hold!! That made no sense to me after all my owner dumped me and never looked back and HEY I have not had a great life as you can tell by my body and coat condition. But they said it is the law and it was not up to me! As soon as my stray time was up the shelter called Harlequin Haven Great Dane Rescue to come for me and a few hours later I was headed to the rescue!! When I arrived at the rescue I was given a nice soft bed, tons of toys and best of all food, life is good!! I am now being fed 4 times a day!! Ya know a gal can get used to this life!!

I want to thank Don with Lost Pet Recovery that fed me all the McD's, all the people at the Fairfield County Animal Shelter and the nice lady (Bethany) that picked me up and brought me to the rescue! Without all of you I would still be out trying to fend for myself!!

Update 7/22: I am now ready for adoption!! I was going to get some new pictures today but Paul decided to get me all muddy so now I have to wait!! Dumb boy!!
Update 7/29: Paul and I played in the big yard today and it was great!! Although he is such a boy and does not think a girl can out run him!! Well I did!! Also notice I no longer have that yucky sun burnt hair, I am getting a pretty black coat!! Check out my new pics below!
Update 11/10: Hey we had picture day, check out my new pictures!!
Update 12/19: Anyone wanta play ball with me???

Update 12/25: Thank You Santa!! I admit I did not belive in you but you proved me wrong and I love being wrong well when it comes to new toys!!! Thank you also for the new blankey and collar!!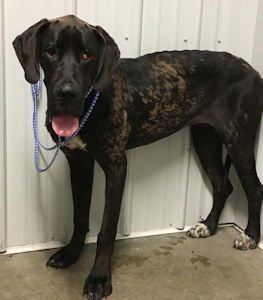 Picture above courtesy of Fairfield County Animal Shelter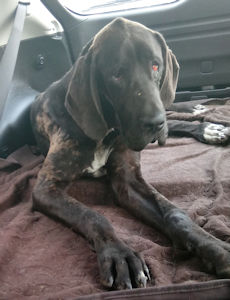 Picture above courtesy of Bethany - my ride to the rescue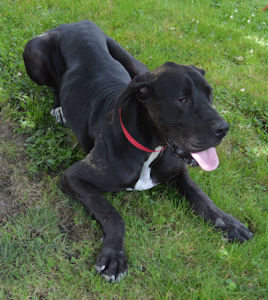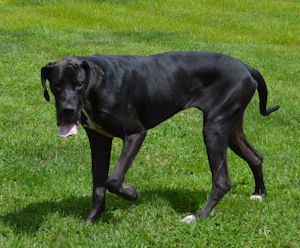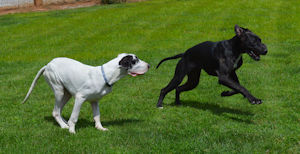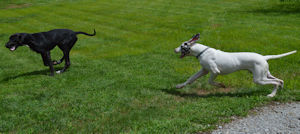 7/29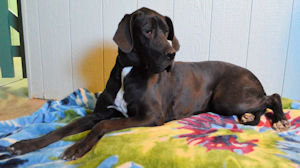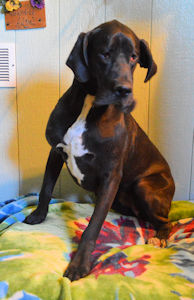 11/10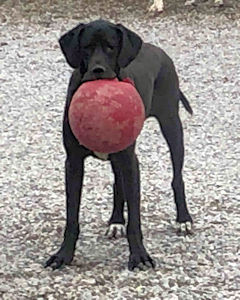 12/19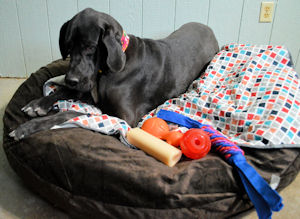 12/25
Date of Birth: 1/2018
Description: female, black with white marks, natural ears

All images and text on this site Copyright © 1998-2023 Harlequin Haven Great Dane Rescue, Inc. unless otherwise credited. Use of any image or text without written permission is expressly forbidden. All rights reserved.