Ollie - ADOPTED
Adopted: I have found my forever home!! I did not think my day would come because to be honest I have been afraid to trust new people. I knew the rescue was a safe place and hey it was better than I had ever had before so the thought of leaving was not even something I was thinking about!! Then my new mommy and daddy showed up and well I knew it was meant to be!!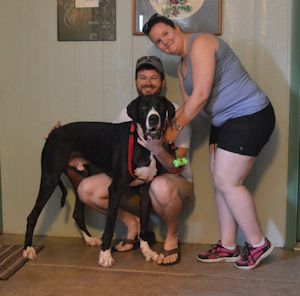 Introducing my new mom & dad!!
Before Pictures & My Story Below
My owner dumped me at the Clark County Animal Shelter, he said I did not know how to share. I was not doing well at the Shelter so they contacted HHGDR to come for me!! The next day when the shelter opened a wonderful man was waiting for me and he brought me to Harlequin Haven. I am settling in quickly, I have a soft bed, tons of toys and other Danes to play with!!
Update 5/22: I am now ready for adoption!! I am a very sweet boy but I do like to play dominate with the other dogs but if you tell me "no" I do listen and stop. I don't mean no harm, grandma just says I was never taught proper play and just need to be reminded occasionally.
Update 6/19: Thought you might like to see a couple of new pictures of me!! Yes I am still as handsome as ever!!
Update 9/10: Yep I am still waiting to find my forever home!! I am a good boy and love to be snuggled with!! Are you wanting a Dane to snuggle with? I just may be that boy!!! Of course I really love to play too!!!
Update 11/20: I decided I would show the fun side of me, check out the new pictures below.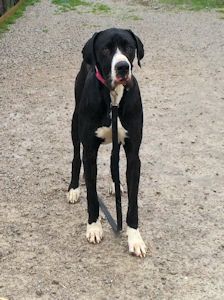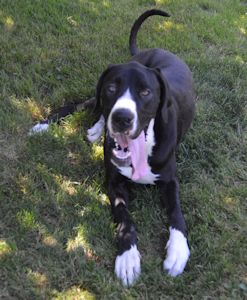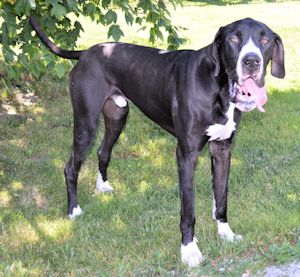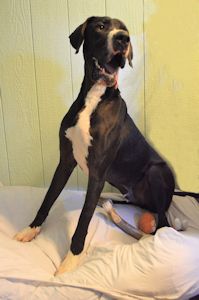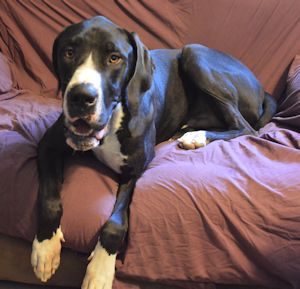 9/10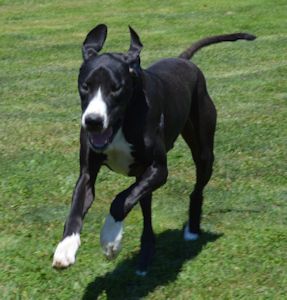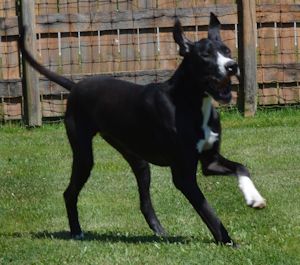 A must to read before picking your forever Dane!
Black is Beautiful
Date of Birth: 3/2015
Description: male, black with white marks, natural ears

All images and text on this site Copyright © 1998-2023 Harlequin Haven Great Dane Rescue, Inc. unless otherwise credited. Use of any image or text without written permission is expressly forbidden. All rights reserved.