Olisa - ADOPTED
Pronounced "O-li-sa"
ADOPTED: Okay this is the last time I am going to have to look for a forever home!!! How do I know that? Well I got a mommy and daddy that never returns dogs no matter what!!

My family Portrait!
Before Pictures & My Story Below
I was dumped to fend for myself at the Metro Park in Garfield Heights. Lucky for me the nice Dog Warden came for me and took me to the Animal Shelter. I was so scared that once my stray time was up I was sent to a foster home with a local rescue but that did not work because I still was very scared. Lucky for me the local rescue contacted Harlequin Haven and they agreed to take me. The very next morning I was on my way to Harlequin Haven!!
Of course I was still very scared when I arrived but Grandma here at the rescue gave me plenty of space and time and I am settling in nicely!! I am very skinny and need to gain at least 20 pounds which should not be too hard because I LOVE to eat!! I also have a nice soft bed, tons of toys to play with and 2 new friends Nakia and Ulysses so things are great!!
Update: I got on the scale I weigh 94 pounds.
Update: I have only been here a little over a week and have settled in nicely!! I love all the love and attention I am receiving!! I also love laying on the couch and playing with my toys!!
Update: I am now ready for adoption!! I am very playful so I would love an active family!
Update 2/22/2021: Well as the old saying goes all good things must come to an end. My owners had a Downs Syndrome baby almost 3 years ago and well the baby is up and moving and he scared me so it was decided it was best for me to come back to the rescue and to hopefully find a new home. Grandma said I need to decompress and lose about 10 - 15 pounds before I can even start looking for that new home. I will get some new pictures in the next day or so.
Update 3/07/2021: Sorry for the delay in getting the pictures. Check out my new pictures below! As you can see I am a full figured girl at this time, I am trying to loose a few pounds but it is not easy!!
Update 3/27/2021: Well I think I am ready to start looking for a new forever home and hopefully my next is a true forever home!! I still have lots of weight to lose but I am working on it and I love my green beans so that helps!! I also am fearful of new people so finding a new home will not be so easy but Grandma said we will take our time and when the right home shows up I will know!!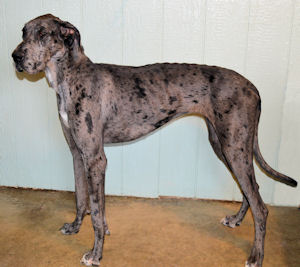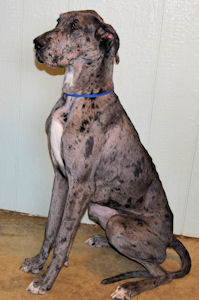 2/15/14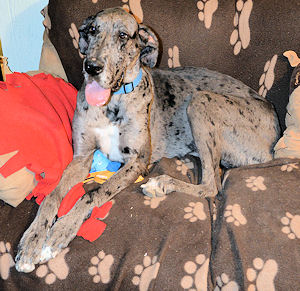 2/22/14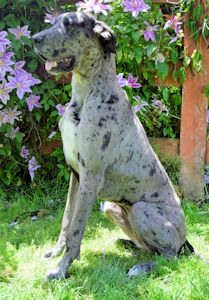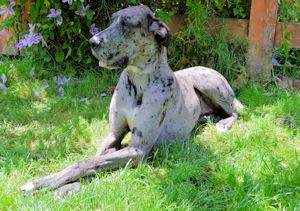 5/24/14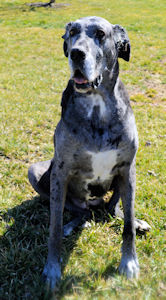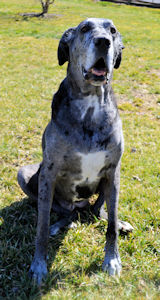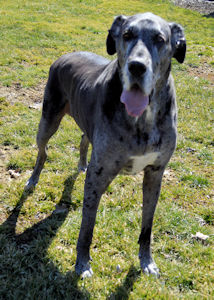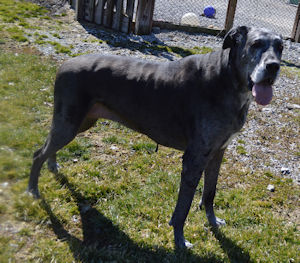 3/06/21
Date of Birth: 2/2012
Description: female, merle with white marks, natural ears, tail docked
All images and text on this site Copyright © 1998-2022 Harlequin Haven Great Dane Rescue, Inc. unless otherwise credited. Use of any image or text without written permission is expressly forbidden. All rights reserved.