Nicholas - ADOPTED
ADOPTED: Thank Goodness I finally got my toe healed!! I was afraid by time I was ready for adoption that no one would want me!! Well instead there were tons of people wanting me and I picked the very first that applied!! I have my forever family they have adopted many times in the past and all have had their forever homes so I know I will too!!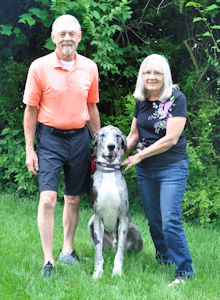 Finally my forever family portrait! Life is great!
Before Pictures & My Story Below
I was brought to Harlequin Haven after my owner had a stroke and was no longer able to care for me. Although his niece tried between her active teenagers, working full time and taking care of my owner there was no time left for me. I was adopted in May 2020 during the Coronavirus Pandemic and I thought I had my forever home but unfortunately it did not work out.
Update 1/3: I am back at the rescue and will be looking for a new home in a few weeks as soon as I settle in again.
Update 2/22: When I came back to the rescue I had a cyst on my rear toe so the vet said it should come off. Well nothing has went right!! Between the snow and ice and yep you guessed it me chewing at my toe, it is not healing the way it should have!! I promised Grandma I would try really hard to leave my toe alone so please keep your fingers crossed that I can keep my promise!
Update 3/27: Well I am getting better at leaving my toe alone unfortunately the damage is done. The vet says it will be weeks if not months till my toe is healed. I get laser treatments 3 times a week plus a thing called assisi loop treatments 3 to 4 times per day, plus bandage changes several times per day!! WOW what a pain Oops guess ya know I love the attention!!
Update 5/16: GREAT NEWS!!! I am NOW Ready for Adoption!!! WOW in less then 30 minutes I had over 10 applications!!