Natasha - ADOPTED
ADOPTED: The rescue reopened and the first family that I met adopted me!! How luck are they!!!

This is my new Mommy & Daddy!!

Before Pictures & My Story Below
My owners were evicted from their home and we had to move in with relatives. I was not allowed in the house, instead was given a chain outside. My owners decided I needed to come to Harlequin Haven to find a home that could afford me and so I would not have to live outside. As you can tell from how emaciated I am they have not been able to afford to feed me for quite some time. I weigh 79 pounds and am about 20 pounds underweight.
Now that I am here at the rescue I have a soft bed with tons of toys and especially food!! In the few hours I have been here I already have had 2 meals plus treats!! Life is great!
I want to thank Don with Lost Pet Recovery for going out of his way to pick me up and drive me 4 hours to Harlequin Haven plus for stopping and buying me several cheeseburgers. Without Don I would have spent another cold and hungry night outside on a chain.
Update 3/21: I just thought I would give you a quick update!! Today was weigh in and I NOW weigh 90 pounds!! I have gained 11 pounds in 7 days.
Update 4/15: Well I have gained my weight, I now weigh 107 pounds so that is good!! But I did not listen to Grandma when she kept telling me to stop wagging my tail so hard!! I am just so happy that I could not help myself and although I saw Grandma washing the walls down every time I walked by plus she was bandaging my tail every day and it did not help when I kept eating the bandages off well it happened!! My tail was amputated yesterday! NOW she is making me wear a stupid collar so I can't chew my tail stump!! I told her I had learned my lesson but she doesn't believe me! Check out my new picture below.
Update 4/27: Great News when the rescue reopens from the Pandemic I will be available for adoption!!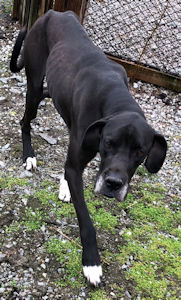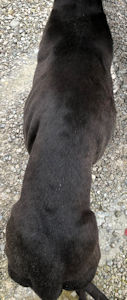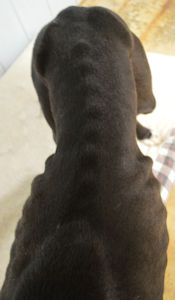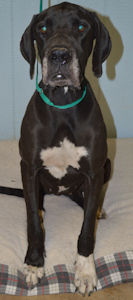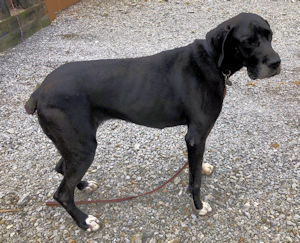 4/14
Date of Birth: 10/2016
Description: female, black with white marks, natural ears
All images and text on this site Copyright © 1998-2022 Harlequin Haven Great Dane Rescue, Inc. unless otherwise credited. Use of any image or text without written permission is expressly forbidden. All rights reserved.