Nakia - ADOPTED
Pronounced "Na ki a"
ADOPTED: I have found my forever home!! We were meant to be together, my mommy and daddy are the bestest and I even have a new 4-legged brother his name is Dunkin and 2 2-legged brothers and a 2-legged sister too!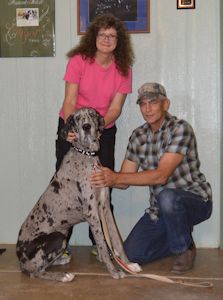 I love my new mommy and daddy and they love me!!!
Click here for more pictures
Before Pictures & My Story Below
I was roaming the roads cold, lost, confused and hungry when someone finally felt sorry for me and picked me up and took me to the Delaware County Humane Society. When I arrived at the humane society they noticed I was bloated looking but since I was not acting off they were not alarmed. Three days later I went into labor, unfortunately my puppies did not survive.
I was not doing well at the humane society so they contacted Harlequin Haven to come for me. The nice woman that drove me to HHGDR even bought me my very own brand new pink collar!!! I love my new collar and I really look pretty in pink!! I also have a nice warm soft bed with tons and tons of toys to play with and I am being fed several meals a day to help me gain weight!! I have a lot of weight to gain as you can see from my picture below!
Update: Just wanted to give you a quick update! I got on the scale and I weighed 80.4 pounds and should weigh about 115. I am eating great and enjoying life playing with my new friend Ulysses! I also have added a new picture below! Okay back to play time!!
Update: I now weigh 99 pounds!! I also have a new friend Olisa!!
Update: I just love my hard boiled softie hedge hog!!!
Update: I am now ready for adoption!!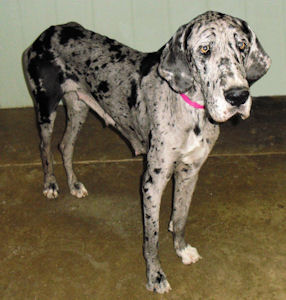 1/30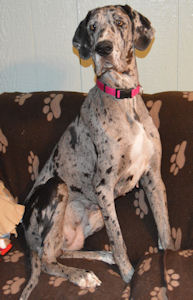 2/4
2/22
Date of Birth: 1/2012
Description: female, merle with white marks, natural ears

All images and text on this site Copyright © 1998-2023 Harlequin Haven Great Dane Rescue, Inc. unless otherwise credited. Use of any image or text without written permission is expressly forbidden. All rights reserved.