Mataya - ADOPTED
ADOPTED: I have found my forever home!! My new family understands the commitment needed and the love wanted!! I love my new family, my new forever family!!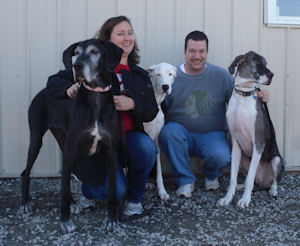 My new family!!! You can see the love!!
Click here for more pictures
Before Pictures & My Story Below
My owner got a divorce over a year ago and moved to an apartment. Her husband did not want me, so I came to live with her brother in Ohio. Unfortunately now his health is failing and I am again homeless. I realize being old my chances of finding a real forever home are slim but Grandma here at the rescue told me to never stop praying and maybe my prayers would be heard!
I have a vet appointment tomorrow to be heartworm checked and get a biospy on the lump on my side. Hopefully all goes well!
Update October 30: Sorry I read on the webpage that the website was updated every Sunday so I thought I had to wait but then the other Danes told me I could update whenever I wanted. Sorry for the delay! I went to the vet on Tuesday and my lump is just a fatty tumor and I am heartworm free!!! I am settling in nicely and just want hugs and kisses!! Well I gotta go Mason and Ghianti are wanting to go play and I want to play with them!! They are really cute!!
Update November 5: Just thought you would like to see a couple more pictures! Check them out below! Also I am NOW ready for adoption!! Okay forever home where are you, ya know I am not getting any younger!!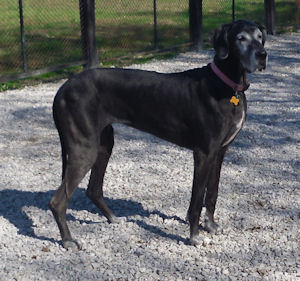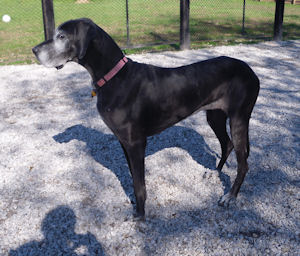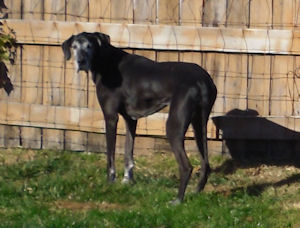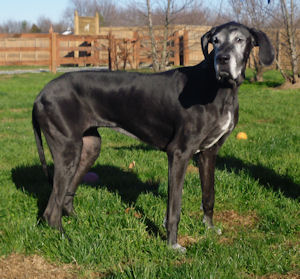 11/5
Date of Birth: 4/06/2002 Breeder: Lea Hawley & Peter Hawley
Description: female, black with white marks, natural ears

All images and text on this site Copyright © 1998-2023 Harlequin Haven Great Dane Rescue, Inc. unless otherwise credited. Use of any image or text without written permission is expressly forbidden. All rights reserved.