Marlie aka Mylee
My owners dumped me at the Campbell County Animal Shelter when I would not stay in their yard! It would have helped if they had a fence so I would have known I was out of their yard!! I was adopted by Labrador rescue and spent 6 months with them. After 2 failed placements it was decided that I should be with Great Dane rescue where they understand me. I was kinda messed up when I arrived at HHGDR and I did not know who to trust after all I had a lot of homes in a short period of time. But HHGDR was very patient with me allowing me to adjust in my own time.
I now have my very own forever home and not only did they choose me but I chose them!! It is perfect! My sister Mimi also came from HHGDR!!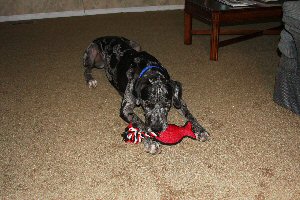 I love my new toy!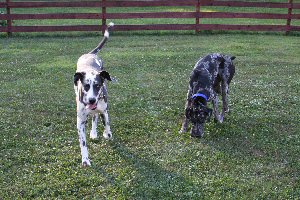 Mimi was thrilled to show me around my new yard!

Come on Mimi lets head back to the house!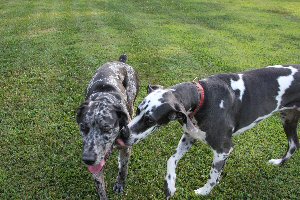 Come on Mimi lets go take a nap!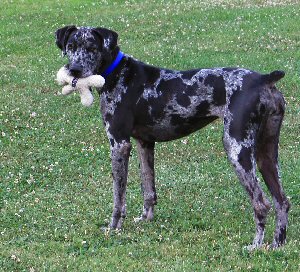 I have tons of new toys!!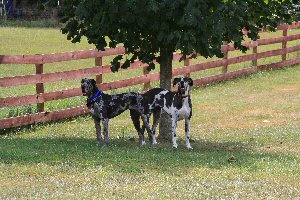 I love my new sister!!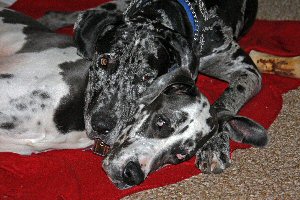 Love is having a sister to use as a pillow!

Yes we are spoiled!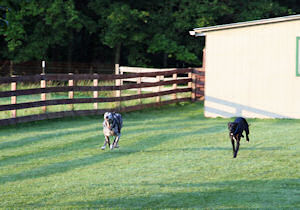 I may be old but I can out run you!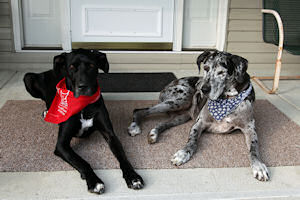 Ya know I let him win!
All images and text on this site Copyright © 1998-2023 Harlequin Haven Great Dane Rescue, Inc. unless otherwise credited. Use of any image or text without written permission is expressly forbidden. All rights reserved.