Marissa - ADOPTED
ADOPTED: Wow how easy was that!! The first family that looked at me fell in love with me but HEY who wouldn't!! Of course they were easy and even adopted my best friend Penelope!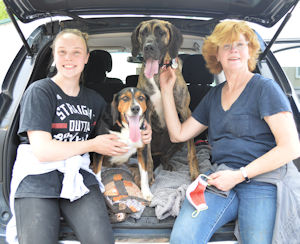 My forever family portrait.
Before Pictures & My Story Below
My owner contacted Harlequin Haven when he could no longer afford to take care of me. He said I had constant worms and I had diarrhea all the time.
The rescue did find tape worms in my poop along with plastic bags, Styrofoam and many other things that Grandma said she really did not need to know what they were as long as they were coming out. I have been here less then 24 hours and so far I have been wormed, treated for fleas, tested for heartworm, lyme & ehrlichia and I have received my vaccinations too!! PLUS the best part is that I am getting yummy food every few hours!! I weigh 63 pounds and I should weigh at least 100 so I have some eating to do!!
Update 2/28: Just a quick update I now weigh 71.2 pounds!!! Not bad in just 5 days I have gained 8.2 pounds!! I did have diarrhea for a couple of days but that is all gone, now that I have adjusted to the food and eating 5 meals a day!! Well I gotta get back to eating!!! I LOVE eating!!
Update 3/14: Well since I have been here at the rescue every once in a while I would have blow out diarrhea and foreign objects would appear. Well this week I went to the vet to be spayed and have my stomach ex-rayed and GUESS WHAT!! My belly was full of plastic bags (food storage bags & grocery bags), packing Styrofoam, rocks and other assorted plastics! My belly sure feels better now!!! FYI, even with the belly full of plastic I still had gained weight!! I now weigh 82.6 pounds!! Check out my new pictures below!
Update 3/22: I have Great News!! I am getting really close to my desired weight!! I NOW weigh 90 pounds and it only took 26 days to gain 27 pounds!! I have gained a pound a day!!! Just imagine if I had not had all that plastic and stuff in my belly how much more I could have gained!! Oh yeah I am also ready to start looking for my forever home!!!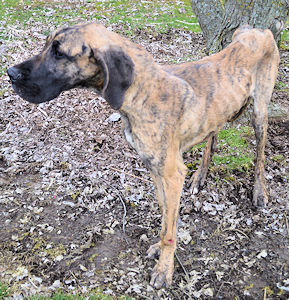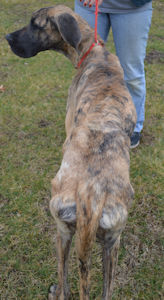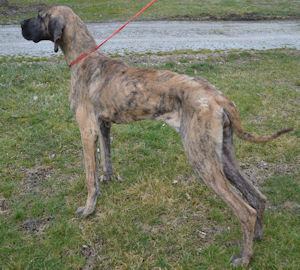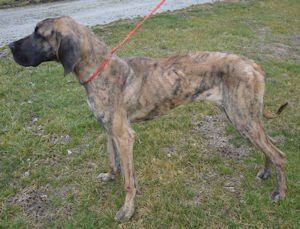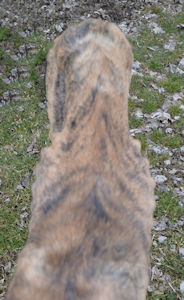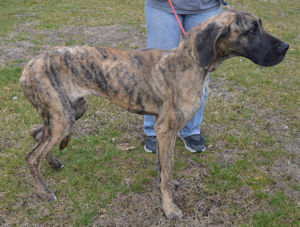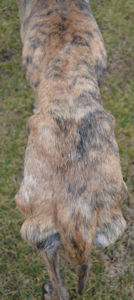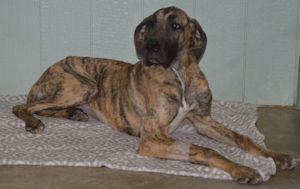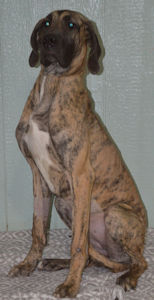 3/14
Date of Birth: 3/26/2019 Breeder: Christine Snyder
Description: female, brindle, natural ears
All images and text on this site Copyright © 1998-2020 Harlequin Haven Great Dane Rescue, Inc. unless otherwise credited. Use of any image or text without written permission is expressly forbidden. All rights reserved.